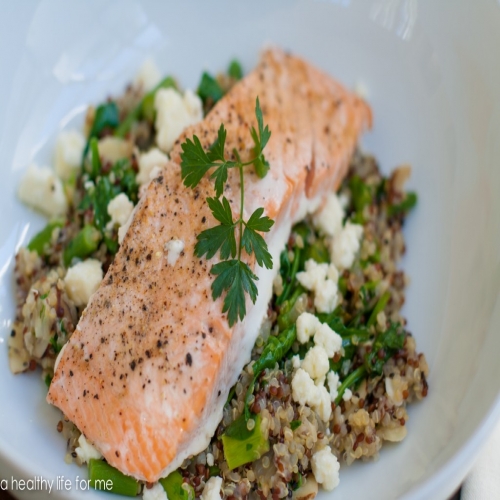 Prep Time:

5-minutes

Cooking Time:

20-minutes

Serves:

4-servings
Salmon with Quinoa Feta and Spinach.
Category: Healthy Recipes, Peppers, Onions, Fish
Ingredients List
1 tablespoon coconut oil
1 medium yellow onion, diced
2 garlic cloves, minced
12-15 asparagus spears, cut in 1" dice
1 cup dried sprouted trio quinoa, cooked according to directions
½ cup crumbled feta cheese
1 tablespoon chia seeds
â…" cup slivered almonds
1½ cup fresh spinach leaves
2 hard boiled eggs, diced
2 tablespoon diced parsley
1 lemon
½ cup olive oil
Kosher salt and pepper to taste
1½ pounds skinned salmon
¼ teaspoon cayenne pepper
¼ teaspoon lemon pepper seasoning
Directions
1. Preheat oven to 400 degrees and line a baking sheet with foil.

2. Place salmon on sheet and sprinkle top of salmon with cayenne pepper and lemon pepper seasoning. Squeeze ½ of lemon over top. Let sit.

3. In a medium skillet over medium heat, melt coconut oil. Add diced onions and cook stirring for 5 minutes, toss a pinch of kosher salt.

4. Add garlic and stir for 30 seconds to heat.

5. Add asparagus spears and cook 3-5 minutes stirring to cook. Will become vibrant green.

6. Dump ingredients into large bowl.

7. Place salmon in oven for 15 minutes on rack in middle of oven.

8. Add quinoa to small saucepan of boiling water and a pinch of kosher salt, cover and turn down to simmer for 12 minutes.

9. When quinoa is done, remove from heat and add spinach to top of quinoa put lid back on and let steam for 3-5 minutes, or until spinach starts to wilt.

10. Add spinach and quinoa to asparagus and toss.

11. Add chia seeds, ½ lemon juice, olive oil, almonds, feta cheese, parsley, egg and salt and pepper to bowl of asparagus.

12. Toss to coat ingredients.

13. Place a portion of quinoa in large bowl or plate and top with a salmon fillet.

Recipes by Course
Recipes by Main Ingredient
Recipes by Cuisine
Recipes by Preparation
Recipes by Occasion
Recipes by Dietary