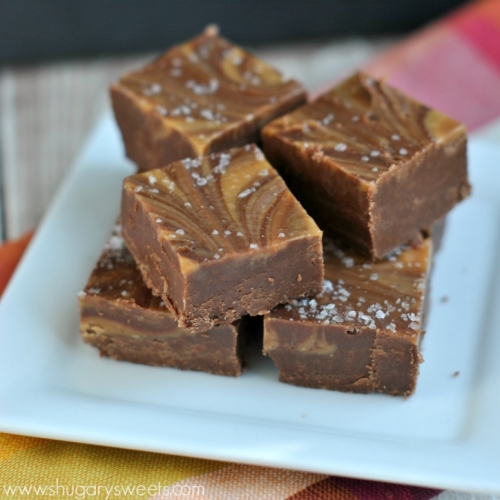 Prep Time:
Cooking Time:
Serves:
Salted Caramel Fudge Recipe.
Category: Desserts, Kosher, Chocolate
Ingredients List
4 cups granulated sugar
1 cup skim milk
1 teaspoon pure vanilla extract
1 cup unsalted butter
1 tablespoon espresso powder
25 marshmallows, regular size
11 1/2 ounces milk chocolate chips, 1 package
12 ounces semi-sweet chocolate chips, 1 package
2 ounces unsweetened chocolate
1 11 oz bag caramel bits, or about 2 cups caramels
2 tablespoons heavy cream
1 tablespoon kosher salt
Directions
1. In a large saucepan, combine sugar, milk, vanilla, butter and espresso powder.

2. Bring to a boil over medium high heat, stirring constantly.

3. Once boiling, keep at a rolling boil for two full minutes (still stirring).

4. For this next step, I use a stand mixer with whisk attachment, but a hand mixer would work too.

5. In a large bowl, combine marshmallows and chocolate.

6. Pour hot mixture over these ingredients and blend until smooth. I turn my mixer on medium speed and allow it to blend for about 2-3 minutes, scraping down the sides of the bowl several times.

7. While this is mixing, place your caramel and heavy cream in a microwave safe bowl and heat for 1-2 minutes, stirring every 30 seconds until melted and smooth. Set aside.

8. Pour the creamy fudge mixture into a parchment paper lined 15inch x 10inch x 1inch baking sheet. Drizzle with hot caramel, using a knife to swirl it into the fudge.

9. Sprinkle immediately with kosher salt (or coarse sea salt).

10. Refrigerate for 4 hours, or overnight.

11. Cut into small bites and store in the refrigerator for up to two weeks. ENJOY!


Recipes by Course
Recipes by Main Ingredient
Recipes by Cuisine
Recipes by Preparation
Recipes by Occasion
Recipes by Dietary