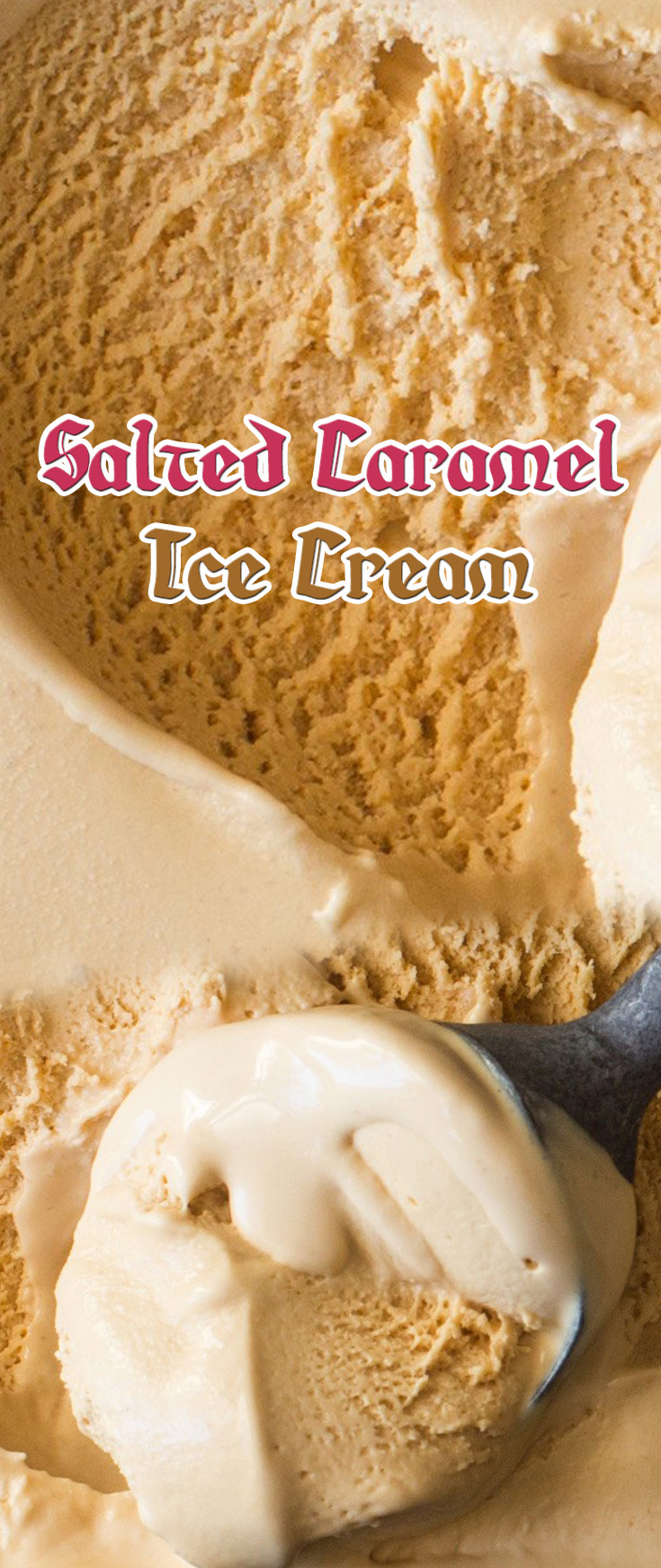 Prep Time:

5 minutes

Cooking Time:

30 minutes

Serves:

1 quart
Salted Caramel Ice Cream
Recipe Submitted by

maryjosh

on

04/26/2018
Ingredients List
2 cups whole milk divided
3/4 teaspoon pure vanilla extract
1 cup heavy cream
1 cup granulated sugar
4 tablespoons butter salted, cubed
1/2 teaspoon flaky sea salt (if using table salt, use about 1/4 teaspoon)
5 large egg yolks
Directions
First, we need to prep the setup for the ice cream. Add about 2 cups of ice to a large bowl so that it is filled 1/3 with ice. Add about 1 cup of water, or until the ice cubes are floating. Place a medium bowl on top of ice water. Add 1 cup of milk and vanilla to the inner bowl and place a mesh strainer on top of inner bowl. Place to the side until Step 7.
Place heavy cream into a small saucepan and heat until scolded (you'll see little bubbles begin to form on the edges). Remove from heat and set aside until Step 4.
Add all of the sugar to a large saucepan and turn heat to medium. Begin stirring sugar constantly as it heats. It should start melting around 1 1/2 - 2 minutes. Keep stirring. The sugar will begin to darken a little and clump but then it will melt again into a smooth, amber brown liquid. Immediately remove from heat so it doesn't burn.
Add butter and salt to sugar and whisk together until butter melts and combines with sugar. Gradually whisk in the cream, about 1/4 cup at a time. The caramel may begin to seize (aka turn hard again). If that's the case, place back on low heat and stir until it melts back into the mixture or the clumps get small enough not to matter. Don't worry - they'll get strained out later.
Remove mixture from heat. Stir in other 1 cup of milk. In a separate bowl with the yolks, whisk them together. Add a little (about 1/4 cup) of the caramel-milk mixture to the yolks and whisk together. Add a little more, and whisk together. Yolks should be tempered now and won't scramble when heated. Add them back to the rest of the caramel-milk mixture and stir together.
Place mixture back on medium heat so we can thicken the mixture a little. Constantly stir and scrape the bottom. Cook for about 2 minutes or until the mixture is between 160-170 degrees. The mixture should slightly coat the back of a spoon but not be as thick as pudding. It should only be slightly heavier than cream.
Pour the mixture through the mesh strainer and into the inner bowl of the setup in Step 1. Stir mixture with the milk and vanilla until it has cooled down. Once room temperature (or cooler), place a piece of plastic wrap directly on top of mixture (to prevent film from forming) and place into the fridge to chill. Should take about 3-4 hours. At this time, freeze a glass or metal container that we'll store the ice cream in later.
Once chilled, it is time to make the ice cream. Make ice cream according to machine instructions. Once frozen, you can enjoy ice cream immediately but it might be too soft. Place in frozen container and cover with plastic wrap. Let it freeze until more solid, about 4 hours.
Recipes by Course
Recipes by Main Ingredient
Recipes by Cuisine
Recipes by Preparation
Recipes by Occasion
Recipes by Dietary