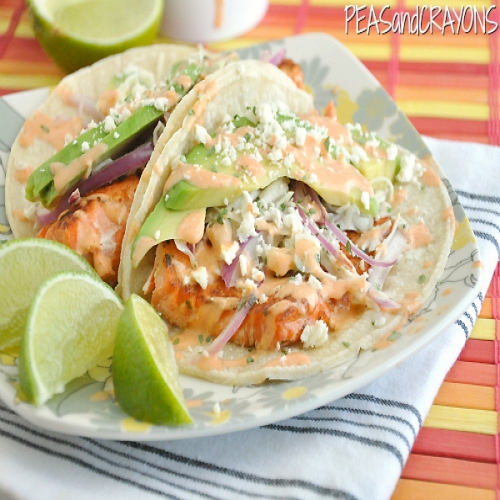 Prep Time:
Cooking Time:
Serves:

2-servings
Seared Salmon Tacos with Honey-Lime Slaw and Sriracha Ranch
Category: Dinner Party, Main Dish, Onions, Fish
Ingredients List
Fresh wild Alaskan salmon [enough to yield several tacos]
1-2 large ripe avocado, sliced
4-5 corn tortillas
¼ cup crumbled feta or cotija cheese [optional]
chipotle olive oil [or your favorite oil!]
1 lime, wedged
the spices:
paprika
ground cayenne pepper
garlic +/or onion powder
dried parsley
salt and pepper
+/or your favorite spice blend
the sauce:
3 TBSP homemade or store-bought ranch dressing
1 TBSP Sririacha chili sauce
the slaw:
1 heaping cup cabbage, finely chopped/shredded
¼ small red onion, sliced thin
1-2 TBSP apple cider vinegar [optional]
1 TBSP honey
½ tsp dried or fresh cilantro, to taste
½ tsp lime juice
¼ tsp garlic powder
a pinch of salt
Directions
1. First make your slaw! Toss together cabbage [plain, mixed, or purple!] and onion with the above ingredients and adjust to taste. If needed you can always add more cabbage or more onion/vinegar/honey/spices at the end so it's uber easy to customize to perfection.

2. For the sauce, whisk together ranch and Sriracha, using more Sriracha for a spicy sauce and less for a more mild drizzle.

3. While you're at it, prep your corn tortillas by wrapping in a slightly moistened paper towel and microwaving for 25-30 seconds to steam. I like to rub mine with a teeny bit of oil afterwards and toss them onto a heated pan for a minute or so on each side. This gives them a teeny bit of crunch/texture while still allowing them to bend soft-taco style.

4. Next move on to the salmon. Heat a cast iron pan or skillet with a drizzle of oil and season both sides of your salmon with paprika, cayenne pepper, parsley, salt and freshly ground black pepper, along with any additional seasonings. The salmon I buy always has the skin left on one side - simply remove it with a knife or sear that side [unseasoned] first, it will peel right off after a minute or two! Follow up the skin removal by seasoning that side as well. I adore cooking my salmon with a sear/bake combo, but feel free to simply sear yours if you prefer to skip the extra step.

5. Preheat your oven or toaster oven to 450 F.

6. Once your pan is hot, add the salmon and sear on both sides for approx 2 minutes each. Look for a reddish/golden crust with a rare center.

7. With a spatula, move the salmon to a foil lined baking sheet and bake for approximately 5-10 minutes depending on thickness. The result is a crisp, flavorful crust on the outside with a tender flaky inside.

8. Now all that's left is to assemble your tacos, pile on the toppings, and dig in! Crushing a fresh lime wedge atop each taco before they hit your face is optional, but oh-so delicious =) Do it!

Recipes by Course
Recipes by Main Ingredient
Recipes by Cuisine
Recipes by Preparation
Recipes by Occasion
Recipes by Dietary