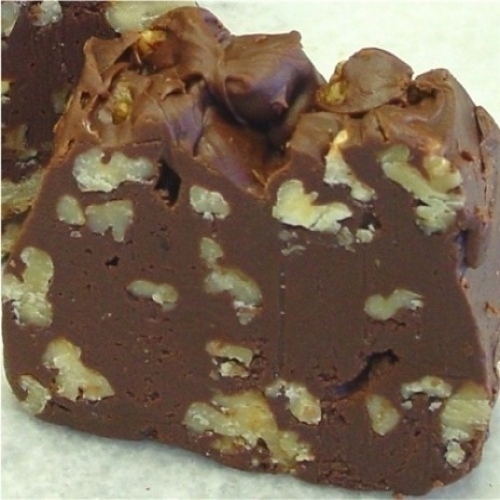 Prep Time:
Cooking Time:
Serves:
Ingredients List
18 ounces of semi-sweet or bittersweet chocolate chips (1 1/2 bags)
3 cups chopped walnuts or pecans
(I have used "cocktail-style" peanuts and its good if you want a peanut flavor.)
1 cup of regular butter (2 sticks) Do not use margarine!
1 can (13 ounces) evaporated milk
4 cups of mini marshmallows or 20 large marshmallows, cut up
4 cups granulated sugar (no substitutes!)
2 teas. vanilla extract
Directions
1. Put your marshmallows, chips, butter and vanilla in a large bowl.

2. In a heavy pot, add the sugar and milk and bring to a boil over a medium flame.

3. Bring this to a rolling boil and cook for exactly eight (8) minutes

4. Pour the milk and sugar over the marshmallows, chips, butter and vanilla and let it all sit for a minute.

5. Start stirring with a wooden spoon until the marshmallows have melted and add the nuts and stir until the fudge is smooth.

6. Pour into a 9×13 pan or a 15×13 sheet pan. (I use a 9×13 disposable aluminium pan.)

7. Cover your pan with aluminum foil. (You do not have to butter your pan before pouring your fudge into it. )

8. Let fudge rest and cure overnight or for at least several hours until firm to the touch.

Recipes by Course
Recipes by Main Ingredient
Recipes by Cuisine
Recipes by Preparation
Recipes by Occasion
Recipes by Dietary