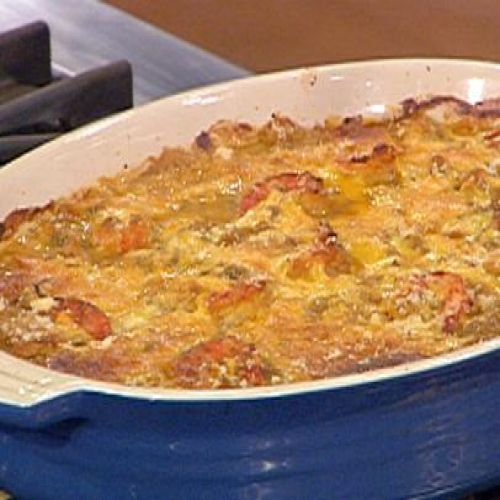 Prep Time:

20-minutes

Cooking Time:

2 hours -10 minutes

Serves:

10-servings
Shrimp and Mirliton Casserole.
Category: Dinner Party, Main Dish, Onions, Greens, Casseroles, Seafood
Ingredients List
5 pounds (about 8) medium mirlitons (chayotes)
2 pounds medium shrimp, peeled and deveined
4 tablespoons olive oil
1 1/2 tablespoons Emeril's Bayou Blast (Essence), recipe follows
2 cups chopped yellow onions
1/2 cup chopped green bell peppers
1 large jalapeno, seeded and minced (about 1/4 cup)
1/2 teaspoon dried thyme
1/4 cup minced garlic
1 1/2 teaspoons salt
1/2 teaspoon freshly ground black pepper
1/2 cup finely chopped green onions
1/4 cup finely chopped fresh parsley leaves
3 large eggs, lightly beaten
1 cup plus 1 tablespoon dried fine bread crumbs
1 teaspoon Emeril's Kick It Up! Red Pepper Sauce, or other hot sauce
3/4 pound freshly grated American cheese
Directions
Bring a large pot of water to a boil. Add the mirlitons and cook until tender, 45 minutes to 1 hour. Remove from the heat, drain, and set aside to cool completely.

Meanwhile, combine the shrimp with 2 tablespoons olive oil and 1 tablespoon Bayou Blast in a mixing bowl and toss to coat evenly. Cover and refrigerate until ready to use.

When the mirlitons are cool, cut them in half lengthwise, remove the seeds, peel, and coarsely chop. Set aside.

Preheat the oven to 350 degrees F.

Heat the remaining 2 tablespoons olive oil in a large heavy pot or Dutch oven over medium-high heat. Add the onions, bell peppers, and jalapeno. Add the remaining 1/2 tablespoon Bayou Blast and the thyme. Cook, stirring, until the vegetables are soft and lightly golden, 4 to 6 minutes.

Add the garlic and cook, stirring, for about 2 minutes. Add the mirlitons and cook, mashing them with a potato masher, until very tender and most of the liquid has evaporated, about 30 minutes. Add the shrimp, salt, black pepper, green onions, and parsley. Cook, stirring, until the shrimp turn pink, 3 to 4 minutes. Remove from the heat.

Add the eggs, 1 cup of the bread crumbs, and the pepper sauce. Mix well. Spoon the mixture into a 9 by 13-inch casserole dish. Sprinkle the cheese evenly over the top, then sprinkle with the remaining 1 tablespoon of bread crumbs. Bake until the topping is lightly browned and bubbly, about 30 minutes. Serve warm.


Recipes by Course
Recipes by Main Ingredient
Recipes by Cuisine
Recipes by Preparation
Recipes by Occasion
Recipes by Dietary