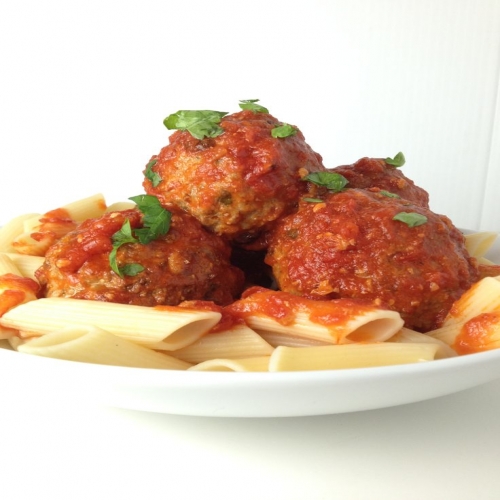 Prep Time:
Cooking Time:
Serves:

4 Servings
Ingredients List
2-28 Ounce - Peeled Italian Tomatoes, Crushed
1/4 Cup - Extra Virgin Olive Oil
To Taste - Salt
To Taste - Black Pepper
4 Slices - White Sandwich Bread
4 Large - Eggs, Beaten
4 - Garlic Cloves, Minced
1/4 Cup - Italian Flat Leaf Parsley, Choppped
3/4 Teaspoon - Dried Marjoram
2 Pounds - Ground Beef Chuck
1/2 Cup - Dried Currants
1/4 Cup - Pine Nuts
1/4 Cup - Parmigiano-Reggiano Cheese
1/4 Cup - Dry Bread Crumbs
Directions
Preheat oven to 425 degrees
Pour the tomatoes into a large enameled cast-iron casserole and crush them. Add the olive oil and season with salt and pepper. Bring to a boil. Reduce the heat to low and simmer for 30 minutes.
Meanwhile, in a bowl, soak the bread in water until saturated. Squeeze out the water and transfer the bread to a large bowl. Mash the bread to a paste and stir in the eggs, garlic, parsley, marjoram, 1 tablespoon of salt and 1/2 teaspoon of pepper. Mash until smooth. Add the chuck, currants, pine nuts and cheese and mix until combined. Add the bread crumbs, 1 tablespoon at a time, and knead until the mixture is firm enough to roll. Form the mixture into 36 meatballs (about 3 tablespoons each), tucking in the currants and pine nuts.
Place Meatballs on a rimmed baking sheet and bake in prehated oven for 20 minutes.
Add Meatballs to sauce and simmer for 30 minutes. Serve over cooked pasta or rice.
Recipes by Course
Recipes by Main Ingredient
Recipes by Cuisine
Recipes by Preparation
Recipes by Occasion
Recipes by Dietary