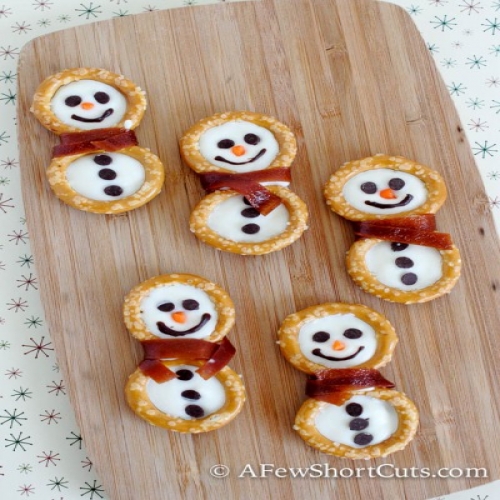 Prep Time:
Cooking Time:
Serves:
Category: Corn, Chocolate
Ingredients List
Pretzel Rings
Candy Melts
Mini Chocolate Chips
Candy Corn
Fruit Leather
Directions
1. Melt Candy Melts according to package directions and add to a small squeeze bottle.

2. Line a sheet pan with wax or parchment paper. Place a dime sized round of candy melt down on the paper.

3. Lay two pretzel rings flat touching together on top of the dime sized spot. Fill in each ring with Candy Melt plus a small amount along the seam of where the pretzels are touching to hold them together.

4. Add 2 Mini Chocolate chips for eyes in the top ring and 3 in the bottom ring for buttons.

5. Cut the orange part off of the candy corn, and cut that into nose size pieces, place on the top ring for the nose.

6. Finish the remaining snowmen and let the melts set.

7. In a small bowl melt a few tablespoons of chocolate chips and add to a small squeeze bottle. (I washed out the bottle I just used and then added a couple of spoonful of the chocolate straight into the nozzle top of the bottle). Carefully squeeze out a small amount of chocolate and draw the smiles on the faces. Allow to set.

8. Cut the fruit leather into ¼ strips. Wrap around the middle of the two pretzels to make the scarf. Be careful when moving after adding the scarf, the fruit leather can stick and decapitation is much easier than you would think.

9. Serve or store in an airtight container.

Recipes by Course
Recipes by Main Ingredient
Recipes by Cuisine
Recipes by Preparation
Recipes by Occasion
Recipes by Dietary