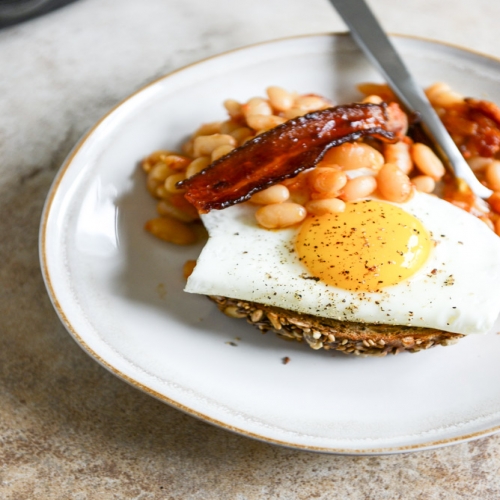 Prep Time:
Cooking Time:
Serves:

6- servings
Skillet Baked White Beans. (on toast!).
Category: Healthy Recipes, Eggs, Apples, Onions, Peppers
Ingredients List
2 pounds dry cannellini beans, soaked overnight
6 slices thick cut bacon
1 sweet onion, diced
4 garlic cloves, minced
1/2 cup brown sugar
1/4 cup apple cider vinegar
1/4 cup bqq sauce
2 tablespoons molasses
2 teaspoons dijon mustard
1 teaspoon smoked paprika
1/2 teaspoon salt
1/2 teaspoon pepper
3 cups low-sodium chicken stock
for serving:
whole grain bread, toasted
fried eggs
Directions
1. Preheat oven to 325 degrees F

2. Take three slices of bacon and chop them. Heat a large cast-iron skillet over medium heat and add bacon. Once some of the fat has rendered, add the onion and stir to coat.

2. Cook until the onion is softened and the bacon is crispier, about 5 to 6 minutes.

3. Stir in the garlic and cook for another minute. Stir in the brown sugar, vinegar, molasses, mustard, paprika salt and pepper.

4. Stir until the sugar dissolves and everything is combined.

5. Add the beans and the chicken stock, stirring to mix. Bring the mixture to a boil and simmer for 5 minutes. Place the remaining bacon strips directly on top of the beans (you can cut them in half if you'd like).

6. Place the skillet in the oven and cover it with a lid or tent it with aluminum foil. Bake for 2 hours or even a bit longer as the beans soak up the liquid.

7. Taste before serving and season additionally if needed. My favorite way to eat these is on buttered toast with a fried egg.

Recipes by Course
Recipes by Main Ingredient
Recipes by Cuisine
Recipes by Preparation
Recipes by Occasion
Recipes by Dietary