Side Pannel
Slow Cooker Beef Brisket with Caramelized Onions: Delicious and Weight Watcher's Friendly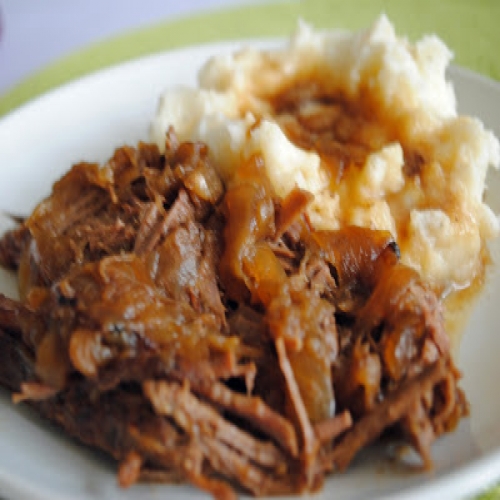 Prep Time:
Cooking Time:
Serves:
Slow Cooker Beef Brisket with Caramelized Onions: Delicious and Weight Watcher's Friendly
Category: Dinner Party, Healthy Recipes, Main Dish, Beef
Ingredients List
1 (3 pound) beef brisket, trimmed of visible fat
1 tsp. salt
1/2 tsp freshly ground black pepper
cooking spray
1/4 cup water
2 cups vertically sliced onion (about 1 large)
1 Tbs. balsamic vinegar
1 bay leaf
1 12 oz. bottle light beer
Directions
1. Rub brisket with salt and pepper. Heat a large heavy skillet over medium- high heat. Coat pan with cooking spray. Add brisket to pan; cook 10 minutes, browning on all sides. Remove brisket from the pan. Add 1/4 cup water to pan, stirring to loosen browned bits. Add onion; saute 5 minutes or until vegetables are tender.

2. Place onion mixture, vinegar, bay leaf, and beer in a large electric slow cooker. Place brisket on top of onion mixture. Cover and cook on low for 8 hours or until fork tender. Discard bay leaf. Serve with sauce.

.....................Nutrition info.....................
3 oz. of meat and 1/3 cup sauce = 4 WW Points Plus. (Fat 5g, Carbohydrates 5.6g, Protein 20.5g, Fiber 1.1g per serving).

Recipes by Course
Recipes by Main Ingredient
Recipes by Cuisine
Recipes by Preparation
Recipes by Occasion
Recipes by Dietary