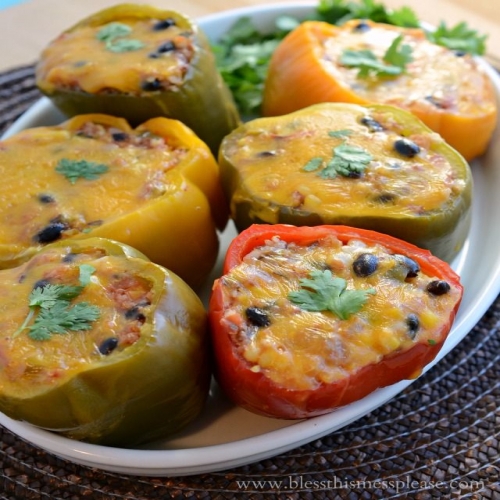 Prep Time:
Cooking Time:
Serves:

4 Servings
Slow Cooker Stuffed Bell Peppers with Quinoa, Black Beans, and Corn
Category: Vegetarian, Corn, Black Beans, Vegetables
Ingredients List
4 red, orange, or yellow bell peppers
1 cup chopped onion
1 tablespoon olive oil
1 tablespoon minced garlic
1 1/2 cups shredded sharp cheddar cheese
1 (15-ounce) can black beans, rinsed
1 cup cooked quinoa
1 cup corn (frozen or freshly cut from the cob)
1 cup jarred tomato salsa
2 tablespoons minced fresh cilantro
1/2 teaspoon salt
1/2 teaspoon cumin
1/4 teaspoon pepper
Directions
Trim a 1/2 inch from the top of each pepper. Discard the seeds and core. Remove the stem from the pepper tops and then finely chop the pepper tops. Add the chopped pepper tops, onion, and olive oil to a small saute pan and cook over medium heat until the peppers are soft and the onions are translucent, about 6 minutes. Add the minced garlic the last minute of cooking and cook until fragrant.

In a large bowl combine the cooked vegetable mixture, 1 cup of the cheese, black beans, quinoa, corn, salsa, half of the cilanto, and spices. Stir well to combine. Pack the filling evenly into each bell pepper.

Pour 1/3 cup water in the bottom of the slow cooker and place each pepper standing up in the bottom. Cover and cook until the peppers are tender, 4 to 5 hours on low or 3 to 4 hours on high.

Sprinkle the rest of the cheese evenly over the peppers, put the lid back on and cook until the cheese melts, about 5 minutes. Remove the peppers from the slow cooker and place on a serving dish. Sprinkle with remaining chopped cilantro and serve.
Recipes by Course
Recipes by Main Ingredient
Recipes by Cuisine
Recipes by Preparation
Recipes by Occasion
Recipes by Dietary