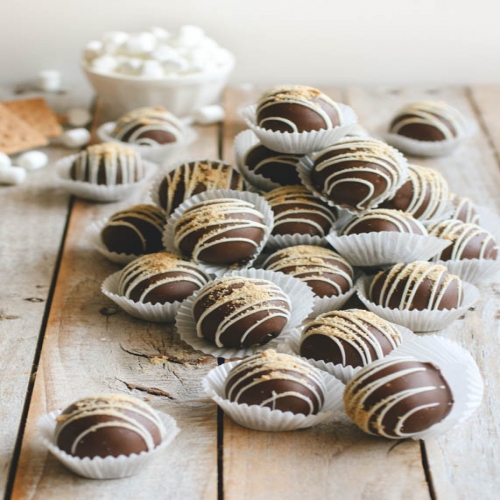 Prep Time:

30 Mins

Cooking Time:

None!

Serves:

16 Cookies
S'mores Cake Balls
Recipe Submitted by

Cobb

on

11/24/2014
Category: Kids, Desserts, Chocolate
Ingredients List
1 chocolate cake (box is fine)
1 cup graham cracker crumbs + 2 tbsp for garnish
1 bag mini marshmallows
2 tbsp butter, room temp
4 oz. cream cheese, room temp
1/2 cup powdered sugar
1 package chocolate candy bark
3 blocks vanilla candy bark
Directions
Bake your cake according to the box or recipe instructions and let cool completely.

If you're making your graham cracker crumbs in a food processor, do so while your cake is baking.

Once cake is cooled, use a fork or your hands to shred the cake into small crumbs. Mix in 1 cup of graham cracker crumbs and set aside.

To make the marshmallow frosting, turn on your oven's broiler. While it's heating, cream your butter and cream cheese together in a large bowl and line a cookie sheet with parchment paper. One your broiler is hot, spread the mini marshmallow in an even layer on your lined sheet and place under the broiler for 30 seconds to one minute, or until marshmallows have reached your desired level of 'toastedness'. Watch them very carefully - they burn very easily!

Using a spatula, immediately scrape the marshmallows into the bowl with the butter and cream cheese and blend until well combined. Add the powdered sugar and blend again until smooth.

For the assembly, add 3/4 the icing to the crumbled chocolate cake mixture. Test your dough to see if it is sticky enough to form a ball without crumbling Add more icing as needed. Your mixture should be almost the consistency of a thick cookie dough - remember, a moist cake ball beats a dry one every time!

Place in refrigerator for at least 30 minutes then roll into 1 inch balls and place on a lined cookie sheet. When done, place baking sheet in freezer and let cake balls chill for 30 minutes. This step is optional, but it helps the cake balls keep their shape and prevents crumbs from getting in the candy bark and thus, causing lumpy coating.

While cake balls are chilling, microwave 1/2 a package of chocolate candy bark in a heat-proof bowl, stirring every 30 seconds, until melted.

It's time to dip! Coating cake balls is something of an art. It takes practice so if your cake balls don't come out looking perfect don't worry about it! It took me several tried to develop a successful method. Regardless of what they look like, they still taste magical. Promise.

Place the cake ball into the bowl of melted candy coating and use a spoon the cover with coating. Lift the cake ball out of the coating with a fork and tap against the rim of the bowl to remove excess.

Use a toothpick to gently push the cake ball back on to your cookie sheet. Make sure you push the cake ball from the bottom so you don't smudge your coating. Repeat until all your cake balls are covered.

To garnish, melt your vanilla candy bark then pour into a zip lock bag. Hint: to make this easy, place the bag in a glass, wrapping the edges of the bag around the lips of the glass so that you can easily pour in the melted bark. Cut a very tiny piece from the corner of the bag and then drizzle the bark onto your dried cake balls in a back and forth motion. While the bark is still wet, sprinkle with graham cracker crumbs. You'll want to do this about 6 at a time so you can sprinkle before the drizzle dries.

If desired, trim and place in mini muffin cups to serve. Store in an airtight container and refrigerate. Cake balls will last up to two weeks.
Recipes by Course
Recipes by Main Ingredient
Recipes by Cuisine
Recipes by Preparation
Recipes by Occasion
Recipes by Dietary