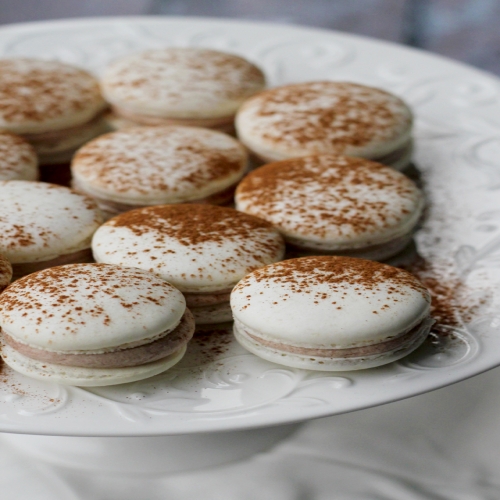 Prep Time:
Cooking Time:
Serves:

40 macarons
Category: Holiday, Eggs, Desserts
Ingredients List
For the macarons
115 g blanched almond slices, ground, or almond flour
230 g powdered sugar
144 g egg whites
72 g granulated sugar
2 g kosher salt
For the cinnamon sugar buttercream
1 cup unsalted butter, room temperature
4 cups confectioner's sugar
¼ cup heavy cream
2 tsp vanilla extract
salt, to taste
1 tbsp cinnamon, plus more for dusting
Directions
1. If using almond slices, grind in a food processor with the powdered sugar for at least three minutes, but before the almonds start to become almond butter.

2. Sift together the almond flour and powdered sugar into a large bowl. If there are almond flour slices that won't pass through the sifter, then grind them again until they do.

3. In the bowl of a stand mixer fitted with the whisk attachment, combine the egg whites, sugar and salt. Beat on medium (speed 4) for 3 minutes. Increase the speed to medium-high (speed 6) and beat for another 3 minutes. Increase the speed to 8 and beat for another 3 minutes. Increase it to 10 and beat for one more minute. When you lift the whisk, the meringue should be stuck to it. Lightly tap it against the side of the bowl until it falls off.

4. Pour the dry ingredients into the meringue. Fold them into the meringue using the "fold-and-smash" method (fold and then subsequently smash and smear against the side of the bowl). Mix until the batter is lavalike and when you spoon some of the batter out and drop it back in, it completely incorporates within about 20 seconds.

5. Transfer half of the batter to a piping bag fitted with a ½-inch round tip. Line two baking sheets with parchment paper. Pipe the macarons into evenly sized and spaced circles, making sure to keep the piping bag straight up and down as you do so.

6. Rap the baking sheet hard against the counter, twice. Turn ninety degrees and rap another two times. Let rest for 45-60 minutes.

7. Meanwhile, preheat the oven to 275F.

8. Bake the macarons, one tray at a time, on the rack farthest from the oven's flame for 18 minutes. Allow to cool completely on the pans.

9. Repeat with remaining batter.

10. For the buttercream, in the bowl of a stand mixer fitted with the paddle attachment, combine the butter and powdered sugar, mixing on medium-high speed until light and fluffy. Add in the cream and vanilla and beat on medium-high for 3 minutes. Mix in the cinnamon until completely combined, as well as salt to taste.

10. Pipe the buttercream onto the flat side of half of the macarons and then top them with a second, similarly sized macaron. Refrigerate in an airtight container overnight. Dust with cinnamon before serving.

Recipes by Course
Recipes by Main Ingredient
Recipes by Cuisine
Recipes by Preparation
Recipes by Occasion
Recipes by Dietary