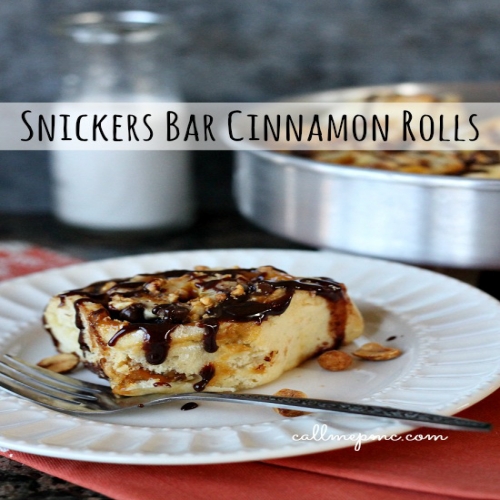 Prep Time:

45-minutes

Cooking Time:

25-minutes

Serves:

12 rolls
Snickers Bars Cinnamon Rolls.
Category: Holiday, Candy, Rolls
Ingredients List
Dough
1 T active dry yeast
1 T granulated sugar
1 T honey
1½ cups hot water (100 to 110 degrees)
4 to 4 and ½ cups bread flour
1 T powdered milk
½ cup granulated sugar
¼ tsp salt
2 large eggs, beaten
Filling
8 caramel apple wraps
2 cups chocolate chips
1 and ½ cups peanuts, chopped
OR
8 Snicker's candy bars, chopped small
Topping
½ c fudge topping for ice cream
Directions
1. Combine yeast, water and 1 tablespoon sugar in a small mixing bowl. Allow to sit 10 to 15 minutes in a warm place.
Once yeast is foamy and almost doubled in size stir in the honey.

2. While yeast is sitting, add 3 cups flour, powdered milk, salt and ½ cup sugar to a large mixing bowl. Once yeast is ready, add yeast and eggs to this flour mixture. Mix using the dough hook on your electric mixer on low until all ingredients are combined. Or mix with a wooden spoon by hand if you're super woman.

3. Once this mixture is incorporated slowly add the remaining flour 1 tablespoon at a time until dough pulls away from bowl and is no longer sticky. At this point you may want to remove from the bowl and knead by hand as it is very thick and puts a lot of strain on the mixer.

4. Allow the dough to rest on a floured surface for 5 minutes. Turn the bowl you mixed it in upside-down over the dough.
Preheat you oven to 350 degrees. Spray 9x13 inch pan or two 8 or 9 inch pans with non-stick spray.

5. On a floured surface, roll out the dough into a large rectangle until ½ inch thick. Dough should measure about 16 inches by 12 inches.

6. Layer the caramel sheets, chocolate chips and peanuts evenly over the dough

7. If you're using chopped Snickers bars, layer them evenly over the dough

8. Start with the long side and roll, pinching the ends as you go so the filling doesn't fall out.

9. With a serrated knife, slice the roll in half. Slice each half in half. Then half each of those pieces in half. You should have 12 rolls.

10. Place rolls in prepared pans. Allow to sit about 5 minutes then place in pre-heated oven.

11. Bake 20 to 25 minutes or until lightly browned.

12. Heat fudge topping in microwave and drizzle over rolls. Serve warm.

13. ENJOY!!


Recipes by Course
Recipes by Main Ingredient
Recipes by Cuisine
Recipes by Preparation
Recipes by Occasion
Recipes by Dietary