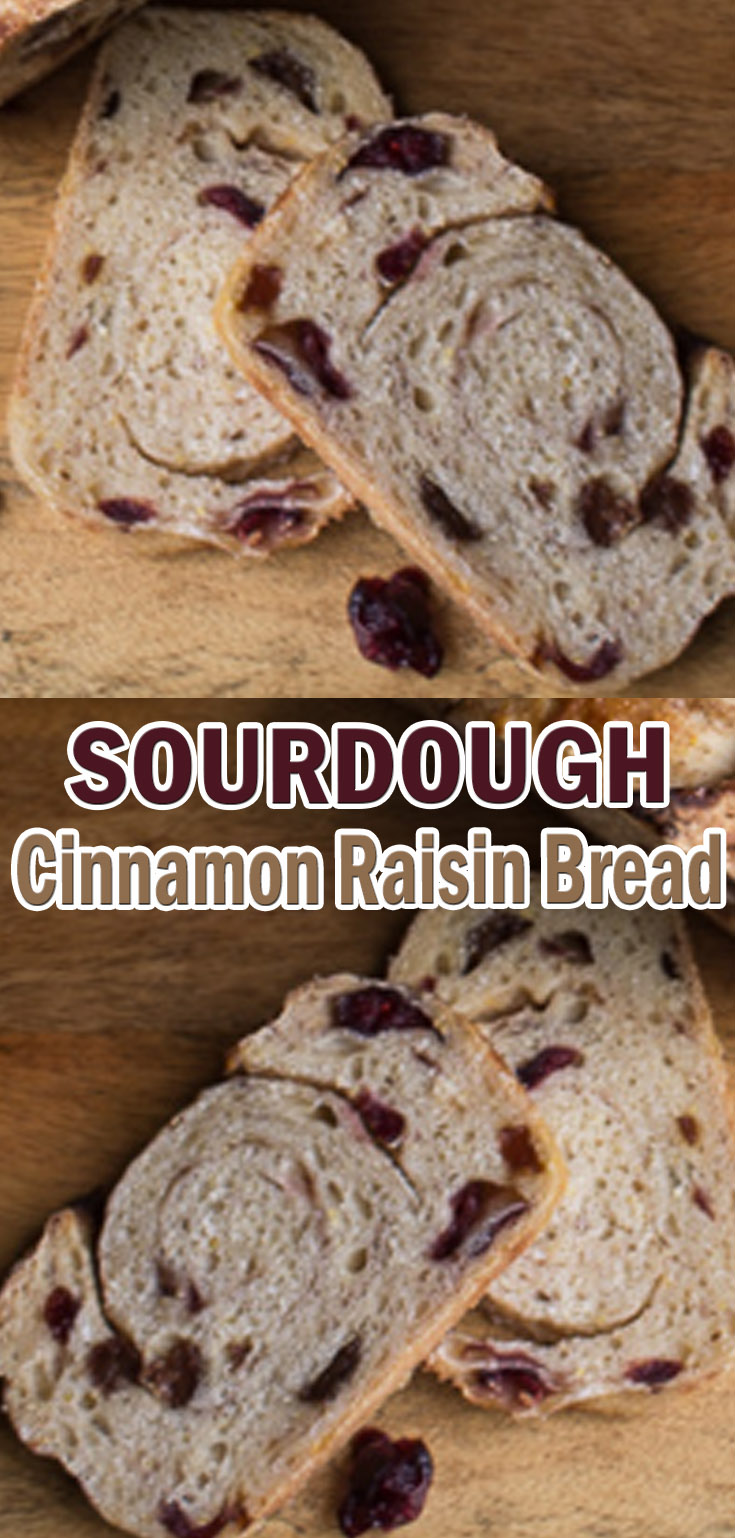 Prep Time:

25 minutes

Cooking Time:

35 minutes

Serves:

8
Sourdough Cinnamon Raisin Bread
Recipe Submitted by

maryjosh

on

04/25/2018
Ingredients List
For the dough
5 3/4 cups Whole Wheat Flour 925 grams
1 1/4 cups All Purpose Flour 185 grams
3 3/4 cups Water, room temp 809 grams
1 Tbsp Salt 20 grams
1/4 cup ripe unfed Sourdough Starter/culture 58 grams
For the Filling
1/4 cup brown sugar firmly packed
1 Tbsp Cinnamon
1/4 cup Raisins soaked in 2 Tbsp orange juice or warm water to soften
Butter or oil for brushing the dough and the pan
Directions
Mix the whole wheat and all purpose flour, and salt together until combined.

Add the water and sourdough culture/starter and stir with a wooden spoon or spatula until combined. If the dough looks a bit dry, you can add an extra tablespoon of water at a time because whole wheat flour absorbs a lot of water. You don't have to knead the dough because the long fermentation will create the structure you need.

Cover the bowl with plastic wrap and let ferment at room temperature for 8-12 hours. Because there is no dry yeast added, the sourdough fermentation is very forgiving, in that it takes a lot to over-ferment a sourdough bread dough.

When the dough has doubled in size, place the dough onto your counter and shape into a rectangle, making it more long than wide. You want it to be the same width as your loaf pan after rolling it up. Spread melted butter or oil over the rectangle.

Add orange juice or warm water to the raisins to soften for a few minutes.

Mix the brown sugar and cinnamon together and spread all over the rectangle. Add the raisins on top.

Roll the bread like a jellyroll and pinch the ends together to seal the bottom.

Brush a loaf pan really well with butter or oil. Place the dough in the pan. Once it's in the pan, take your fingers and lift the dough away from the sides all the way around and add a little extra butter or oil around the edges of the dough to keep it from sticking. Smooth back out and cover with plastic wrap to proof.

Proofing the bread
You can proof the bread one of two ways.

* Proof the bread in a warm spot in your kitchen or inside a completely cooled oven with the light turned on to keep it warm for 60-90 minutes or until it's almost doubled in size.

* Or for convenience, you can proof the bread overnight in the fridge if you want to bake it first thing the next morning. The temperature of the fridge will slow down fermentation so it doesn't over-proof. If it's still not completely proofed in the morning, you can put in on the counter for 15-30 minutes until it's proofed.

Bake at 400 degrees for 35-45 minutes. The top should be a deep brown color. If you are unsure if it's baked in the center, remove it from the loaf pan and tap the bottom of the bread. If it sounds hollow, it's ready.

Let rest for 20-30 minutes before slicing because the center will still be setting.
Recipes by Course
Recipes by Main Ingredient
Recipes by Cuisine
Recipes by Preparation
Recipes by Occasion
Recipes by Dietary