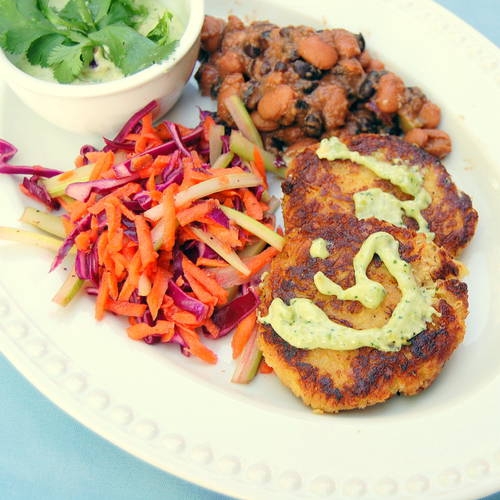 Prep Time:

15 minutes

Cooking Time:

60 minutes

Serves:

4 servings
Spaghetti Squash Cakes, Avocado Jalapeno Aioli, Peanut Butter Mole Beans, Mexican Slaw.
Recipe Submitted by

Cassata

on

09/18/2014
Category: Mexican, Beans, Squash
Ingredients List
1 medium spaghetti squash, halved lengthwise, seeds removed. You will need 3 cups shredded to make the cakes
1/2 cup of vidalia onion, diced
1 tablespoon of garlic, minced
15 ounces can black beans, rinsed and drained
15 ounces can pinto beans, rinsed and drained
4 ounces can diced green chilies
1/2 cup canned whole peeled tomatoes
1 cup of red cabbage, thinly sliced
1 cup of celery, thinly sliced
1 cup of carrots, peeled and thinly sliced
2/3 cup quinoa flakes
2/3 cup of panko
1 teaspoon of canned chipotle sauce
1 tablespoon raw cacao powder
1 tablespoon pure maple syrup
1 1/2 lime, juiced
1/2 of an avocado
1/4 cup cilantro
1/4 jalapeno
Directions
1. For the squash cakes (makes 8 cakes): Preheat oven to 400 degrees F. Place squash, cut sides down, on a non-stick baking sheet. Roast until tender, about 40 minutes. Let cool slightly on a wire rack, about 10 minutes.Scrape squash with a fork to remove flesh in long strands. Place in a large bowl. Allow to cool thoroughly. Once cooled, add quinoa flakes, panko, 6 tbsp Earth Balance Mindful Mayo, chipotle sauce and season with salt and pepper to taste. With your hands form mixture into 8 equal cakes. Heat a large skillet over medium heat with 1 tbsp Earth Balance Coconut Spread. Add cakes to skillet and fry 5-7 minutes per side until golden brown, lowering heat if necessary.

2. For the Peanut Butter Mole Beans: Heat 1 tbsp. Earth Balance Vegan Buttery Sticks over medium heat in a non-stick skillet. Reduce heat to medium-low; add onions and sauté, stirring often, for 5 minutes. Add garlic and continue to sauté for an additional 5 minutes. Reduce heat to low if it starts to burn. Add green chilies, 1 cup vegetable stock and stir. Bring to a simmer and cook on low for 1 minute. Remove from heat. Add mixture to a food processor or blender with cinnamon, cumin (1/4 tsp), Earth Balance Natural Peanut Butter, raw cacao powder, maple syrup and whole peeled tomatoes. Puree until smooth. Transfer mixture to medium sauce pan. Add pinto and black beans. Bring to a simmer and continue to cook, uncovered on medium-low for 5 minutes. Season with sea salt and black pepper, to taste.

3. For Mexican Slaw: Combine Cabbage, Celery, Carrots, and juice of 1 lime, 1/4 tsp cumin and stir. Season with sea salt and black pepper, to taste. Refrigerate for 1 hour and serve.

4. For Avocado Jalapeno Aioli: Combine1/2 cup of Earth Balance Mindful Mayonnaise, 2 tbsp. Earth Balance Soymilk, ½ an avocado, juice of ½ a lime, ¼ cup of cilantro and a 1/4 jalapeno in a food processor and puree until smooth. Chill in the refrigerator for a minimum of one hour. Serve.

5. To serve: Place two cakes on a plate and drizzle with avocado jalapeno aioli. Serve with a side of peanut butter mole beans and mexican slaw.
Recipes by Course
Recipes by Main Ingredient
Recipes by Cuisine
Recipes by Preparation
Recipes by Occasion
Recipes by Dietary