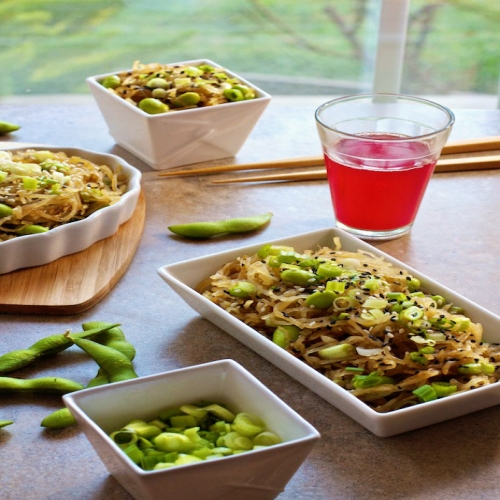 Prep Time:
Cooking Time:
Serves:
Spaghetti Squash Sesame Noodles with Edamame
Category: Main Dish, Asian
Ingredients List
3 cups baked Spaghetti Squash (about 1/2 large squash) See below on how to prepare squash
2 tablespoons Toasted Sesame Oil
2 tablespoons Tamari Sauce
1 tablespoon White Wine Vinegar or Rice Wine Vinegar see Notes on these
pinch of ground Ginger
pinch of Garlic Powder
2 tablespoons toasted Sesame Seeds
1/4 cup diced Green Onions
1/4 cup cooked & shelled Edamame
handful of fresh chopped Cilantro leaves + some for garnish
______________________________________________________________________________________
Optional:
If you want to spice things up a bit...
Hot Chili Oil
Sriracha Sauce
toasted chopped Peanuts
Directions
Bake Squash:
1. Preheat oven to 375 degrees F with the rack in the middle. Put whole squash in a baking dish and bake until you can easily insert a paring knife, about 40 minutes to one hour. Remove squash from oven and let cool about 10 minutes.
2. Cut it in half from tip to tip (long ways) and scoop out the seeds with a spoon. Scrape the sides of the squash with a fork until you have removed all the stringy spaghetti.

Sesame Sauce:
3. Combine sesame oil, tamari, vinegar, ginger, garlic powder and sesame seeds in a small bowl. Add optional hot sauce/Sriracha if desired (or you can add at the end.) Toss with spaghetti squash noodles. Gently fold in edamame and green onions at the end.

Notes:
4. Tamari is wheat free, soy sauce is not. They both have a similar flavor. If you are not concerned about gluten free then you can use soy sauce instead.
5. White Wine Vinegar is grain free. Rice Wine Vinegar is a great option too if you are not on a strict grain free diet. It will add a bit more of a traditional Asian flavor.
6. If you are on a Paleo diet, you might want to swap in something else instead of the edamame.
Recipes by Course
Recipes by Main Ingredient
Recipes by Cuisine
Recipes by Preparation
Recipes by Occasion
Recipes by Dietary