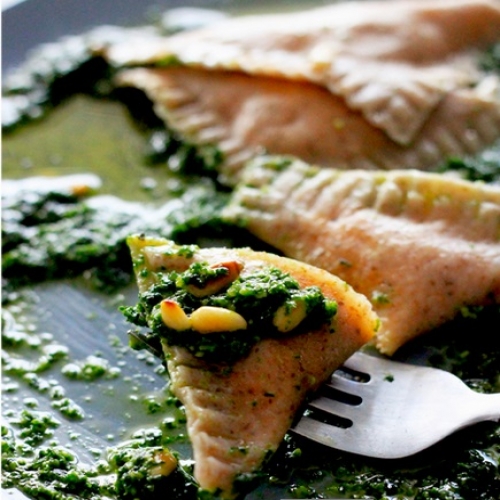 Prep Time:
Cooking Time:
Serves:
Spelt and chia seed ravioli with sweet potato filling and kale pesto Recipe
Recipe Submitted by

Rosemary

on

11/29/2014
Category: Pasta, Potatoes
Ingredients List
dough:
2 tbsp ground chia seeds
1/2 cup + 3 tbsp water, divided
1 cup white spelt flour
3/4 cup whole spelt flour
1/2 tsp fine sea salt
1 tbsp extra virgin olive oil
filling
1 medium sweet potato, roasted or steamed until very soft
1/2 cup pine nuts
1 clove garlic, smashed
juice of 1 lemon
salt and pepper
kale pesto:
1/2 bunch of kale (about 4 stalks), leaves removed
2 cloves garlic, smashed
1/2 cup pine nuts
1/3 cup extra virgin olive oil
salt and pepper
Directions
1. Make the dough: combine the ground chia seeds with 1/4 cup plus 2 tbsp water. Give it a stir and set aside until it forms a thick gel. Place the flours, sea salt, remaining tbsp of water, olive oil and chia gel into the bowl of an electric mixer. Mix on low speed until lightly combined (about 30 seconds). Switch to the dough hook on your mixer and knead on medium speed for 2 minutes (or knead by hand for about 5-7 minutes). Dough should be smooth and feel a bit sticky, but doesn"™t leave residue on your fingers when you pinch it. Cover and set aside.

2. Make the filling: scoop sweet potato flesh into the bowl of a food processor. Add the pine nuts, garlic, lemon juice, salt and pepper. Pulse 10 times to break up the nuts. Scrape down the sides and turn it onto low for about 30 seconds until smooth and homogenous. Cover and set aside.

3. Make the pesto: place the kale leaves, pine nuts, garlic and 2 tbsp of the olive oil into the food processor. Pulse 10-15 times to break up the nuts and chop the greens a bit. Scrape down the sides. Put the food processor on high and drizzle the remaining oil into the feed tube until a smooth paste is achieved. Season to taste and set aside.

4. Sheet the pasta: cut the dough into 4 pieces. Take one of them and flatten it out, brushing some flour on both sides as you press into it. Feed it through the pasta roller at the "1" setting. Fold the sheet of dough in half and feed through again. Repeat this step 2 more times or until the sheet of dough is uniform width. Adjust the roller to setting 2. Feed lightly floured dough into the roller. Feed through at this setting 2-3 times. Flour the dough lightly again. Adjust the rollers to the "3" setting and feed the sheet of dough through twice. It should be fairly translucent, but not so thin that it would break if stretched too much. The sheets should be about 2 feet long. Repeat with remaining dough. Allow dough to dry for 15 minutes or so before filling and cooking.

5. Make ravioli: cut pasta sheets into 2 inch squares. Place a little bowl of water near your working area. Place a scant tablespoon of sweet potato in the middle of the square. Dampen two sides of the pasta square with your finger and fold the opposite side of the square over, pushing down on the seams to form a seal. Push down on edges with a fork to strengthen the seal. Repeat until dough/filling is used up. Lightly dust the shaped ravioli with flour, place in a dish and cover loosely with a tea towel until ready to cook.

6. Cook/plate ravioli: boil a large pot of water with a solid glug of olive oil in it. Place about 10 raviolis in the water at a time. When they all start bobbing at the surface (about 2-3 minutes), remove from the water with a slotted spoon. To serve: place a good schmear of kale pesto on your serving plate, place raviolis on top, put a few dabs more of pesto on top and a sprinkle of toasted pine nuts.
Recipes by Course
Recipes by Main Ingredient
Recipes by Cuisine
Recipes by Preparation
Recipes by Occasion
Recipes by Dietary