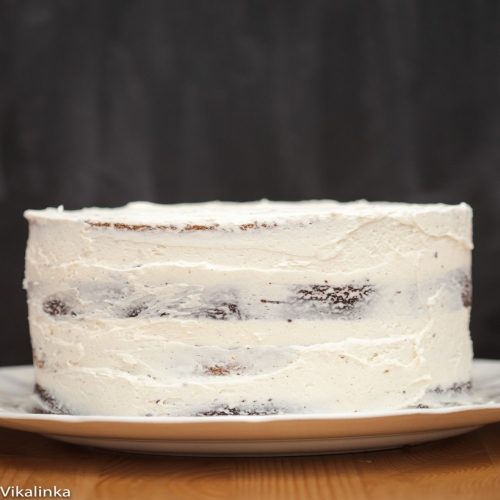 Prep Time:
Cooking Time:
Serves:

6-8 Serving
Spiced Pumpkin and Chocolate Cake with Maple Cinnamon Mascarpone Frosting
Recipe Submitted by

Rosemary

on

11/24/2014
Category: Holiday, Kids, Cakes, Chocolate
Ingredients List
For the Chocolate Stout Cake layers
â…" cups Guinness or other stout
2 tbsp strong black coffee
½ cups/ 454 gr unsalted butter
â…" cups unsweetened cocoa powder
1 cups all purpose flour
1 cups sugar
¾ tsp baking soda
½ teaspoons salt
1 large egg
1½ tsp pure vanilla extract
½ cup creme fraiche/sour cream
For the Spiced Pumpkin Cake layers
1 cup + 2 tbsp flour
â…" tsp. baking powder
¼ tsp. baking soda
½ tsp salt
1 tsp. cinnamon and ¼ tsp. mixed pumpkin spice (nutmeg, cloves, ginger)
â…" cup oil
â…" cup white sugar
2 eggs
7 oz/200gr pumpkin puree
For the syrup
¼ cup-simple syrup (sugar and water in equal parts)
2 tbsp-sloe gin or damson gin (not regular gin)
For the Maple Cinnamon Frosting
500 gr/ 2 cups-mascarpone
1 cup-icing sugar
1 tbsp-pure maple syrup
1 tsp-cinnamon
1 tsp-vanilla
½ cup-whipping/double cream
Directions
1. Preheat the oven to 325F/160C.
2. Grease 2-8" round cake pans and line the bottoms with greased 3.parchment paper. Set aside.

Chocolate layers
4. In a saucepan heat stout, coffee and butter together until the mixture comes to a gentle simmer, add cocoa powder while whisking continuously to avoid lumps until smooth. Set aside to cool.
5. Blend flour, sugar, baking soda, and salt in a different bowl. Mix eggs, vanilla and creme fraiche with an electric mixer in bowl no 3.
6. Now check on your chocolate mixture and make sure it"™s cool enough to continue the process.
7. Add the chocolate mixture to the egg and creme fraiche mixture and blend them together.
8. Add flour mixture a little bit a time and beat on low speed until combined. Pour into the pan and level.
9. Bake in the preheated oven for 25-30 min. Always test your cakes for doneness with a toothpick or a cake taster. Cool on a wire rack.

Spiced Pumpkin layers
10. Mix flour, baking powder, baking soda, salt and spices.
11. Then add oil, sugar and eggs, beat well to combine.
12. Add pumpkin and mix for 2-3 minutes until well incorporated.
13. Pour into the cake pan and level.
14. Bake at 325 F/160C for 25-30 min, cool on a wire rack.
15. Sugar syrup for drizzling
16. Mix sugar syrup with sloe gin or any other liqueur of your choice.
17. Maple Cinnamon Mascarpone Frosting
18. Whip cold mascarpone until light, add maple syrup and icing sugar, beat well until well incorporated.
19. Add cinnamon, vanilla and whipping cream.
20. Whip for 5 minutes until stiff.
21. Assemble the cake
22. When the cakes are cooled, split each layer in half.
23. Brush each layer with some sugar syrup.
24. Divide Maple Cinnamon Frosting into 4 parts.
25. Stack the layers on top of each other so chocolate and pumpkin layers interchange.
26. Fill the layers with ¾ of Maple Cinnamon frosting.
27. Then cover the entire cake with your crumb coat using the frosting from the part you'd set aside.
28. Chill in the fridge for 20-30 minutes.
29. Then cover the cake with the remaining frosting and decorate with flowers if desired or leave it plain. Alternatively, you can lightly dust the cake with a touch of cinnamon.
Recipes by Course
Recipes by Main Ingredient
Recipes by Cuisine
Recipes by Preparation
Recipes by Occasion
Recipes by Dietary