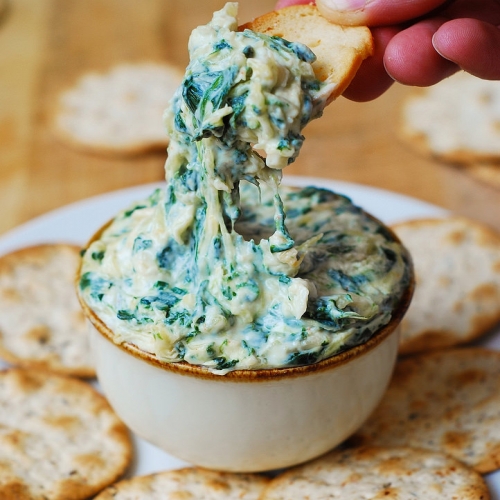 Prep Time:
Cooking Time:
Serves:
Spinach and Spaghetti Squash Dip
Category: Healthy Recipes, Cheese, Squash, Dips
Ingredients List
1 package (8 oz) lower fat cream cheese
½ cup Greek yogurt or low fat sour cream
1/2 cup Parmesan cheese, shredded
1 cup part skim mozzarella cheese, shredded
1 cup spaghetti squash, cooked and wringed out (see instructions below)
1 cup cooked spinach
4 garlic cloves, minced
Cayenne pepper
Salt
Directions
1. Preheat oven to 425 Fahrenheit.

2. Cut the squash in 2 halves, scrape out the seeds and the fiber out of each half. Spray oil over the cut sides of the squash. Spray the baking sheet with oil and place the squash on the baking sheet cut side down.

3. Bake for about 30-40 minutes. Remove it from the oven when it's cooked through and soft, and let it cool. Flip the squash so that cut side faces up "" that will speed up the cooling.

4. After squash cools, scrape squash with a fork to remove flesh in long strands and transfer to a bowl. Let it cool.

5. Important: Wring out the spaghetti squash by wrapping portions of it in paper towels and squeezing hard with your hands over the sink. Be careful not to drop the spaghetti squash into the sink if the paper towel breaks. Try to get rid of as much liquid as you can.

6. Cooked spaghetti squash can be refrigerated for 5 days. I prefer to cook spaghetti squash, refrigerate it and make fritters the next day or 2 days later - that allows spaghetti squash to drain the liquid out and get dryer, which is preferable for fritters

7. Now, on to how to make the actual dip:

8. In a medium pan, combine cream cheese, Greek yogurt, Parmesan cheese, Mozzarella cheese, and stir, over medium heat, until cream cheese melts.

9. Stir in spinach and spaghetti squash and cook for 1-2 minutes over low-medium heat, until everything is well combined and creamy. Stir in minced garlic, and remove from heat.
Season with Cayenne pepper and salt, to taste.
Recipes by Course
Recipes by Main Ingredient
Recipes by Cuisine
Recipes by Preparation
Recipes by Occasion
Recipes by Dietary