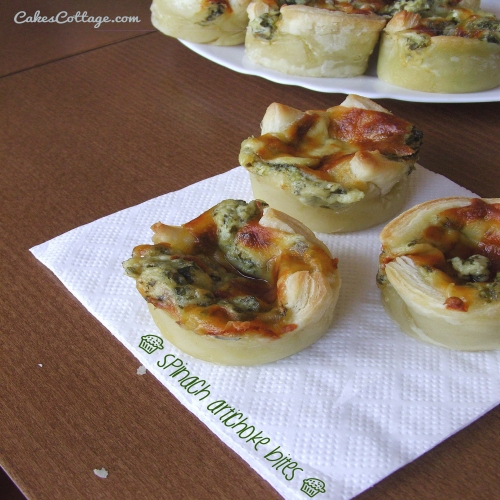 Prep Time:

15 minutes

Cooking Time:

15 minutes

Serves:
Ingredients List
1 (8 oz.) package softened cream cheese
1 cup fresh spinach
¼ cup mayonnaise
½ cup grated parmesan cheese
2 cloves garlic, peeled and minced or ¼ teaspoon garlic powder
1 (14 oz.) can artichoke hearts, drained and chopped
2 tubes of crescent roll dough
½ cup shredded mozzarella
Directions
1. Mix the Parmesan cheese, artichoke hearts and boiled spinach together, add the remaining 3 ingredients and mix well using an electric mixer.
2. Once you"™ve combined the dip, set aside.
3. Preheat your oven to 375 degrees F. Lightly spray mini muffin pans with baking spray or use silicone muffin pan.
4. Working with half of the dough at time, roll your crescent roll dough out onto a large cutting work surface.
5. Using a knife or a pizza slicer , cut the dough into 6 roughly even squares, don"™t worry if they"™re not perfect"¦mine certainly didn"™t, but in the end turned out just fine.
6. Place each of the dough squares into a mini muffin pan as shown on the picture above.
7. Spoon the spinach artichoke dip into each little cup until they are all full. and sprinkle each one with a shredded mozzarella cheese.
8. Place in oven and cook for 15 minutes or until mixture starts to bubble and the edges are browned, but not burned.
9. Remove from oven and place each bite onto a serving platter.
10. This recipe should make about 12 little bites, but it really depends on how much filling you put into each one.

Recipes by Course
Recipes by Main Ingredient
Recipes by Cuisine
Recipes by Preparation
Recipes by Occasion
Recipes by Dietary