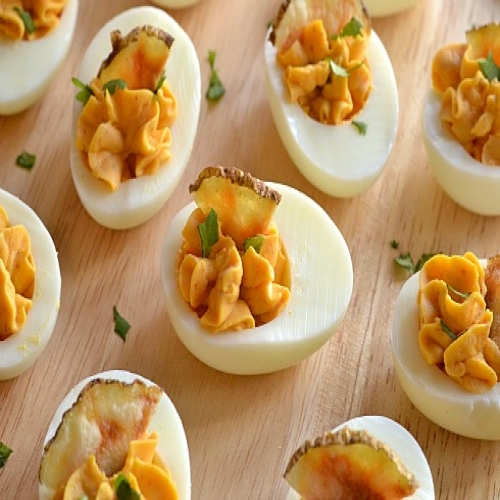 Prep Time:
Cooking Time:
Serves:
Sriracha Deviled Eggs with Microwave Potato Chips.
Category: Healthy Recipes, Potatoes, Onions, Eggs
Ingredients List
Sriracha Deviled Eggs
6 eggs
3 Tbsp light mayo
½ Tbsp Sriracha (more if you like your food extra spicy)
1 tsp spicy mustard, or Dijon
1 tsp dried minced onions
1 tsp lime juice
¼ tsp soy sauce
1 tsp chopped cilantro, for garnish
potato chips, for garnish (recipe below)
Microwaved Potato Chips
1 potato
1 tsp vegetable oil
½ tsp salt
Directions
1. Place the eggs in a medium pot and covere with cold water.

2. Bring the water to a boil then take the pot off the stove, cover and let the eggs sit for 10 minutes. Place the hot eggs in a bowl of ice and water to cool.

3. While the eggs cool, stir together the Sriracha mayo. Whisk together the mayo, Sriracha, mustard, lime juice, soy sauce and minced onions.

4. Slice the potato on a mandolin for even slices and place them in a sandwich bag. Pour the vegetable oil over the potatoes and shake to combine.

5. Place the sliced potatoes evenly on a microwavable plate. Microwave the potatoes for 4 minutes then check to see if they are browning. If they need more time, microwave for 1 minute at a time until the potatoes are beginning to brown. The potatoes should still be a little soft since they will harden as they cool.

6. Sprinkle the potatoes with salt then place on a cooling rack to harden up and get crunchy.

7. When the eggs are cool, peel them. If you are having trouble peeling your eggs, run them under cold water.

8. Use a sharp knife to slice each egg in half lengthwise.

9. The egg yolks should pop out of the whites easily but you can also use a spoon to take them out.

10. Smash the yolks and stir them into the Sriracha mayo.

11. Spoon the mixture into a piping bag with a star tip and fill my egg whites. If you don"™t want to use a piping bag, just use a spoon to dollop the eggs into the whites.

12. Sprinkle the eggs with cilantro and top with a crispy potato chip.

Recipes by Course
Recipes by Main Ingredient
Recipes by Cuisine
Recipes by Preparation
Recipes by Occasion
Recipes by Dietary