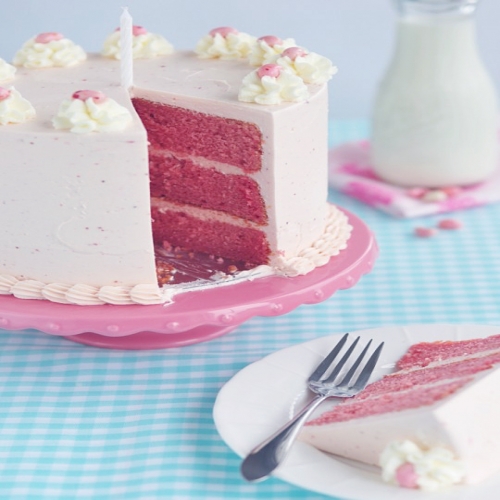 Prep Time:
Cooking Time:
Serves:

One 3-layer, 8-inch round cake
Strawberry Layer Cake with Whipped Strawberry Frosting
Recipe Submitted by

GORP

on

07/22/2014
Category: Desserts
Ingredients List
~~~~~~ For the Cake ~~~~~~
1-3/4 cups (350 g) granulated sugar
1 (85 g) package strawberry flavored gelatin (such as Jell-O)
1 cup (227 g) unsalted butter, softened
4 eggs (room temperature)
3 cups (300 g) sifted cake & pastry flour
1 tablespoon (15 g) baking powder
3/4 teaspoon (5 g) salt
1 cup (240 ml) whole milk, room temperature
1 tablespoon (15 ml) pure vanilla extract
1/4 cup (60 ml) strawberry puree made from frozen strawberries (puree itself should be closer to room temp, not frozen or icy)
~~~~~~ For the Frosting ~~~~~~
3 sticks + 2 tablespoons (375 g) unsalted butter, softened and cut into cubes
4 cups sifted (500 g) confectioners' sugar (icing, powdered), sifted
1 tablespoon (15 ml) milk
1-1/2 teaspoon (7.5 ml) pure vanilla extract
pinch of salt
3 tablespoons (45 ml) strawberry puree made from frozen strawberries (if you want the frosting seed-free, you can put the puree through a sieve before adding to frosting)
Directions
For the Cake:
1. If you're making your own strawberry puree, remove frozen strawberries (about 2 handfuls) from freezer and place in a single layer in a flat dish to thaw slightly. Place into food processor and puree the strawberries until smooth. Stir to ensure it is nice and smooth and not icy. Measure out 1/4 cup for cake and 3 tablespoons for frosting, and freeze the remaining puree for another use.

2. Preheat oven to 350°F. Butter, line with parchment, and flour three round 8-inch pans, tapping out the excess. Set aside.

3. In a medium bowl or measuring cup, combine and stir the milk, strawberry puree, and the vanilla. Set aside. Sift and whisk dry ingredients together in a medium bowl, and set aside.

4. In the bowl of an electric mixer fitted with the paddle attachment, cream the sugar, gelatin, and butter on medium speed until light and fluffy, about 5 minutes.

5. Add the eggs, one by one, mixing well after each addition and scraping down the sides of the bowl with spatula.

6. Add the wet & dry ingredients to the creamed mixture by alternating--beginning and ending with dry ingredients and mixing just enough after each addition to incorporate, but not over-mix.

7. Divide the batter in three, spreading it evenly with a small offset palette knife. If you have a kitchen scale, weigh each pan filled with batter, to ensure 3 even layers. Bake 25-30 minutes or until a cake tester comes clean when inserted into the center. Be so careful to not over-bake. Check cakes at 20 minutes, but not before, and once you feel it's almost ready, set the timer for 2 minute intervals. Let cool on racks for 10 minutes before loosening the sides with a small metal spatula, and invert onto greased wire racks. Gently turn cakes back up, so the tops are up and cool completely.

8. Wrap tightly and store at room temperature for up to 2 days, refrigerator for up to 5 days, or frozen for up to 2 months. Best eaten day one.
________________________________________________________________________
For the Frosting:

9. In the bowl of an electric mixer fitted with the paddle attachment, whip butter for 8 minutes on medium speed (I use "4" on my KitchenAid). Butter will become very pale & creamy.

10. Add remaining ingredients, except strawberry puree, and mix on low speed for 1 minute, then on medium speed for 6 minutes. Frosting will be very light, creamy and fluffy. Add strawberry puree (can be cool, but not frozen or icy) and mix until incorporated.
________________________________________________________________________

Assembly of the Strawberry Layer Cake with Whipped Strawberry Frosting:

11. Place a cake layer face-up on cake plate or 8" round thin cake board. Place 1 cup of frosting on top, and spread evenly with a small offset palette knife.

12. Repeat until you come to final layer and place final layer, face-down. Place a generous scoop of frosting on top, spreading evenly with a small offset palette knife and working your way down the sides until you have a thin layer of frosting over the entire cake. Use a bench scraper to achieve very smooth sides. Chill until set, about 30 minutes.

13. Remove from refrigerator and cover with a final layer of frosting. Finish with any decorations of choice, or frosting borders.

--------------------------------------------------------------------------
Notes

*I used stabilized whipped cream (1 cup whipping cream whipped with 1/4 tsp unflavoured gelatin) and Jelly Belly's "Our Strawberry Blonde" jelly beans (combines the flavour strawberry ice cream, graham cracker pie crust, strawberries, caramel, and whipped cream...um, yummy!)

**A little tip to help make evenly spaced whipped cream (or other decoration) touches: Take a cake pan the same size and shape as your cake, trace onto a piece of parchment paper and cut it out. Fold it in 1/2, then again, and once more for 8 servings. Unfold, and gently place onto top of chilled cake, and using a toothpick make a little mark in the center of each "slice," where the whipped cream will go. Remove paper and keep for next time. Pipe your whipped cream over of each mark.
Recipes by Course
Recipes by Main Ingredient
Recipes by Cuisine
Recipes by Preparation
Recipes by Occasion
Recipes by Dietary