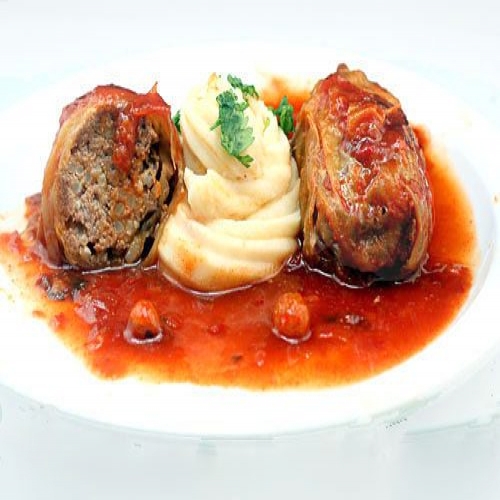 Prep Time:
Cooking Time:
Serves:
Stuffed Cabbage Rolls- Enjoy!!
Category: Vegetables
Ingredients List
>>>>>>> Cabbage Rolls
1 large head green cabbage, about 2 to 2¼ pounds
2 pounds ground beef
2 eggs (not necessary, you can leave them out, but they do make the meat fluffier)
1 medium onion, grated or minced
2 garlic cloves, minced
2 teaspoons salt
1 teaspoon black pepper
½ cup raw long-grain white rice
>>>>>>> Tomato Sauce
2 tablespoons butter or vegetable oil
1 clove garlic, finely chopped
1 medium onion, chopped (medium dice)
2 15-ounce cans tomato sauce or one 32-ounce can whole tomatoes, pulsed in a food processor with juice until pureed.
juice of one lemon or 2 tablespoons (or more to taste) apple cider vinegar
1/3 to 3/4 cup light brown sugar (depending on amount of sweetness you prefer, unless you prefer it completely savory. In that case, add only 1 tablespoon brown sugar and the juice from half a lemon)
Salt and pepper to taste
½ cup golden raisins (optional)
Chopped parsley, for garnish
Directions
1. Core the cabbage. Carefully separate the leaves. Blanch 16 large leaves in boiling water for about 1 minute, or until bright green and just softened. Immediately refresh the blanched leaves in ice water. Drain and reserve. OR, freeze head of cabbage for two days then defrost, core, peel off leaves and roll cabbage rolls. Another method is, place the cabbage in the microwave for 6 minutes. The core will slip right out and the leaves will be perfect for rolling.

Update : Sandy just left a comment recommending yet another way to make the leaves more pliable, without any of the steps above. Take a knife and shave down the vein on the cabbage..it becomes more flexible. Great idea!

2. Chop some of the remaining leaves to make 1 cup of chopped cabbage and reserve.

3. Mix the ground beef with the eggs, grated onion, garlic, salt, pepper, and rice. Divide this mixture into sixteen 2-ounce balls. Using moistened hands, form the balls into cylinders.

4. Place a cylinder of filling near the bottom of a cabbage leaf. Begin to roll it up, folding both sides over the filling, and finish rolling to enclose the filling, like an eggroll. Continue, filling and rolling all the cabbage leaves. Place them, seam side down, on a tray or baking sheet. Cover and refrigerate until ready to use.

5. Over medium heat, melt the butter in a heavy, nonreactive saucepan. Sauté the second onion until soft and golden. Add the garlic and saute for 2 more minutes, then add the reserved chopped cabbage and sauté briefly.

6. Add the tomato sauce, lemon juice, brown sugar, salt and pepper to taste, and stir to combine. Increase the heat until it comes to a boil, then lower it and simmer for 5 minutes. Add raisins now, if using.

7. Line of the bottom of a 13 x 9 roasting pan or glass dish with a layer of sauce. Place cabbage rolls, seam side down, on top of sauce. Top cabbage rolls with remaining sauce then cover the whole pan with tin foil.

8. Bake for 2 hours in a preheated 350F oven.
Recipes by Course
Recipes by Main Ingredient
Recipes by Cuisine
Recipes by Preparation
Recipes by Occasion
Recipes by Dietary