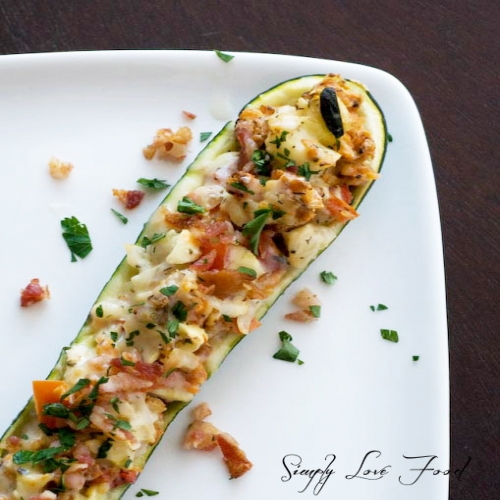 Prep Time:
Cooking Time:
Serves:
Category: Vegetarian, Vegetables, Appetizers
Ingredients List
3 medium-large zucchini (this will make 6 stuffed zucchini)
2 tomato basil garden burger patties, crumbled and sautéed in a pan so it"™s crispy (or ½ cup of cooked ground turkey breast or ground chicken breast)
1 sweet onion, diced
1 red bell pepper, diced
3 cloves of garlic, minced
2 small roma tomatoes, seeds removed and diced small (it"™s very important to get all of the seeds out as they can make the filling watery)
3 tablespoons of sour cream (I used fat free)
1 tsp of dried thyme
½ tsp of onion powder
¼ tsp of garlic powder.
Salt and pepper ( to your liking)
3 strips of cooked bacon, cooked and chopped (heck use as MUCH bacon as you like! That"™s fine in my book!)
1 cup of sharp white cheddar cheese
Directions
Preheat your oven to 400 & line a baking sheet with parchment paper or foil & lightly grease with cooking spray.

Wash and dry the zucchini. Slice them in half (long ways) and scoop out all of the insides leaving about ½ inch. Chop all of the zucchini you have scooped out and place it in a bowl. Once you are done "scooping" you should end up with something that resembles little boats. Be careful with this step because you can easily rip the skins.

In a pan over medium heat, add the onion and bell pepper cooking until soft about 5 minutes. Add in the garlic & cooked veggie burger crumbles (turkey, chicken or whatever you want to use)

Remove from the heat and add to the bowl of chopped zucchini. Mix in the tomatoes, sour cream, & all of the seasonings, (thyme, onion powder, garlic powder, salt & pepper) and a 1/2 cup of the shredded cheese. Go ahead & give it a quick taste now, so you can add more seasonings if you need to.

Spoon the filling into each of the zucchini "boats" and place each one onto the baking sheet. Bake for about 20-25 minutes or until the zucchini "boat" portion is cooked well (it will be soft to the touch and no longer firm.) and the tops are a golden brown color.

Remove from the heat & sprinkle remaining cheese and crumbled bacon over the tops of each zucchini boat. I also garnished mine with freshly chopped parsley for some color.
Recipes by Course
Recipes by Main Ingredient
Recipes by Cuisine
Recipes by Preparation
Recipes by Occasion
Recipes by Dietary