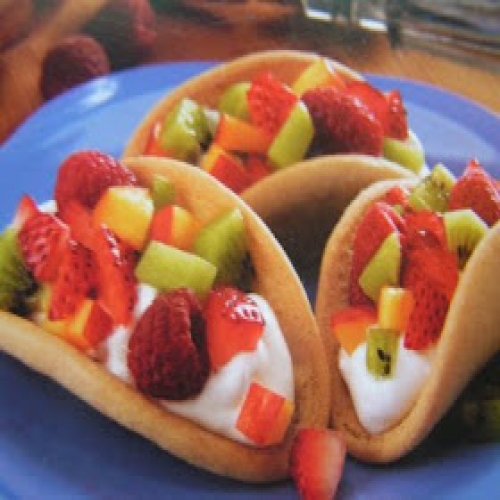 Prep Time:
Cooking Time:
Serves:
Category: Breakfast, Lunch/Snacks
Ingredients List
1 Package 18oz refrigerated sugar cookie dough
2 tablespoons cinnamon
1 cup whipping cream
1/4 cup sugar
2 cups of your favorite fruit cut-up
Directions
1. Preheat oven to 350. grease 2 baking sheets. Cover rounded forms such as rolling pins or cardboard tubes from paper towel roll with aluminum foil.

2. cut cookie dough into 16 half inch thick slices. Press each slice on a slightly floured surface into a 3 inch round sprinkle with cinnamon.

3. Bake cookies until lightly golden, but still soft, 7-9 min. Gently remove cookies from baking sheet and IMMEDIATELY drape over rounded forms (I found it easier to invert the forms, instead of laying it on top of the rounded form I put 2 rolls next to each other and draped the tinfoil over them pushing down in the middle, then I place the cookie in the middle, they did not break that way.... Clear as mud???? sorry)

4. Cool cookies until firm about 2 min. gently remove.

5. Beat whipping cream and sugar in large bowl with mixer on high until stiff. Fill each cookie with about 2 tablespoons and your favorite fruit.

Recipes by Course
Recipes by Main Ingredient
Recipes by Cuisine
Recipes by Preparation
Recipes by Occasion
Recipes by Dietary