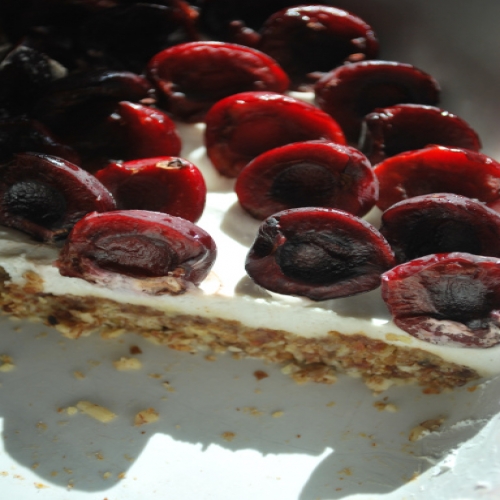 Prep Time:
Cooking Time:
Serves:
Category: Desserts, Fruit, Summer
Ingredients List
Crust
1 cup lightly toasted almonds
1 cup lightly toasted pecans
10 pitted dates
2 tsp. coconut oil
1/2 tsp. sea salt
1 tsp. cinnamon
Splash of water, or as necessary
Filling
Can of Coconut Milk, refrigerated for at least 12 hours
2-3 Tbsp. powdered sugar
1 tsp. vanilla extract
Topping
1 1/2 lb. cherries pitted, or other favorite seasonal fruit
Directions
In a small pan, lightly toast pecans and almonds and let cool. Add nuts in the food processor, along with pitted dates, salt, cinnamon, and coconut oil. Pulse for about 30 seconds or until ingredients start coming together. To test, take a piece of crust and pinch it between your fingers. It should hold together well. If not, add a splash of water until it does. Scoop crust out into a 9"³ pie pan or springform pan if you have one. Place the crust in your pan, making it smooth and even. Set aside.

Refrigerating the coconut milk helps to separate the fat from the liquid. To make the whipped cream you are only going to use the solid part, so you can save the liquid for smoothies or rice, etc. The Thai Kitchen brand does the best at separating, so choose this brand when possible. It really does make a huge difference. Scoop out solid coconut cream and place in a deep bowl. Beat with a hand mixer for 10-15 seconds. Add powered sugar and vanilla and mix on high for 1-2 minutes, but not longer or it will start to separate and loose the consistency of whipped cream. Smooth the whipped cream evenly on top of the crust and set in the fridge while you prepare the fruit.

Wash, slice and pit cherries. Arrange cherries on top of whipped cream and place in the fridge for 1-2 hours before serving. You can also place it in the freezer and remove 30 minutes before you want to eat. If will defrost quickly and tastes great when slightly frozen as well.
Recipes by Course
Recipes by Main Ingredient
Recipes by Cuisine
Recipes by Preparation
Recipes by Occasion
Recipes by Dietary