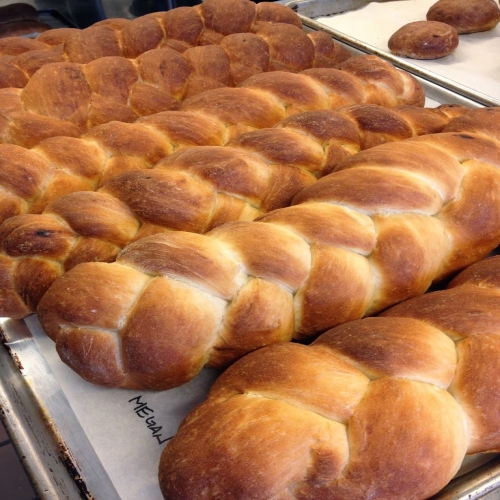 Prep Time:
Cooking Time:
Serves:

3-servings
Category: Eggs, Breakfast, Breads
Ingredients List
2 packages or 4 1/2 tsp. active dry yeast
1/2 C. warm water, 105 degrees F.
1 1/2 C. whole milk ( you can also use evaporated)
1 C. sugar
2 1/2 tsp. salt
2-3 T. freshly ground cardamom
4 eggs, at room temp
7 or 8 cups King Arthur Unbleached Bread Flour
1/2 C. melted butter at room temp.
Glaze and topping:
1 egg, beaten
1 T. light cream or milk
1/4 C. Swedish Pearl Sugar
1/2 C. sliced almonds, if desired
Directions
In a large mixing bowl, add the yeast and the warm water. Let sit for 5 minutes while you heat the milk.

In a small saucepan heat the milk over low heat. Heat to 105 degrees F. Use an instant read thermometer for this. If the milk goes over 115 degrees F. Allow it to cool down below 115 degrees or less before adding it to the yeast.

Once heated, add it to the yeast and water mixture, along with the sugar, salt and cardamom. Mixing on low with a paddle attachment. Crack the eggs into a small bowl and beat them. Slowly add small amount of the warm milk and sugar mixture to the eggs until about 1/4 of it has been incorporated. Add the egg, mixture back into the mixing bowl, and mix on low.

Add 3 cups of the flour, and mix until the dough is smooth. Pour in the melted butter and combine thoroughly. Switch from the paddle attachment to the dough hook and add the remaining flour, 1 cup at a time until the dough is smooth and elastic.

Remove the dough hook and empty the dough onto a lightly floured board and let it sit for 15 minutes, lightly covered with a kitchen towel.

Once rested, knead the dough gently for 5 minutes. Place in a lightly oiled, clean mixing bowl and cover it with plastic wrap. Set it in a warm spot for 1 1/2 hours until the dough has doubled in size.

Once double, remove it from the bowl and portion the dough into 3 evenly weighted pieces. Take one of the pieces and divide it into 3 evenly sized and weighted pieces.
Roll each piece into a long strand, on a lightly floured board. Each strand should be 17 inches long.

Once rolled to the proper length, braid the three pieces together, pinching the ends together and tucking them under. Place on a parchment lined baking sheet and cover with a towel. Repeat with the other two portions of dough.
Recipes by Course
Recipes by Main Ingredient
Recipes by Cuisine
Recipes by Preparation
Recipes by Occasion
Recipes by Dietary