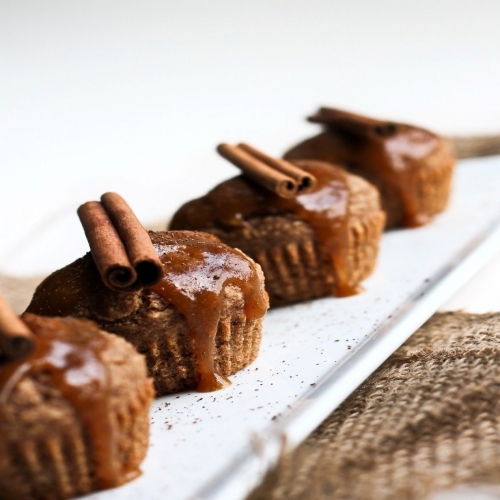 Prep Time:

10 Minutes

Cooking Time:

72 Minutes

Serves:

8-12 muffins
Sweet Potato Cinnamon Muffins with Sweet Potato Caramel
Recipe Submitted by

Rosemary

on

11/23/2014
Category: Breakfast, Desserts, Potatoes
Ingredients List
1 1/4 cups almond flour (140 g) (for nut-free, see notes below)
1/2 cup potato starch (80 g, not potato flour) (see notes below for sub) 2 teaspoons baking powder
1/2 teaspoon fine sea salt
1/2 cup coconut sugar (96 g)
1 1/2 tablespoons cinnamon
1/2 cup cooked mashed sweet potato
1 tablespoon + 1 teaspoon vanilla
1 cup low fat canned coconut milk (237 mL)
Sweet Potato Caramel (makes about 6 tablespoons)
1/4 cup cooked mashed sweet potato
1/2 cup low fat canned coconut milk (118 mL)
1/4 teaspoon cinnamon 3-4 tablespoons coconut sugar (depending on your sweet-o-meter) (48 g)
1/4 teaspoon fine sea salt
1/4 teaspoon vanilla
Directions
1. First, cook your sweet potato by placing a large sweet potato (with skin on) on foil and roast for 50-60 minutes at 405 degrees. You want it to be overcooked basically and incredibly juicy and tender, so it mashes very well. Let it cool before preparing the muffins.

2. Preheat your oven to 350 degrees and line a muffin pan with foil liners. I use Staybrite by Reynolds because they keep muffins really moist and do not stick at all like the paper ones. Add the almond flour (or sunflower), potato starch, baking powder, sea salt, coconut sugar and cinnamon to a large bowl and whisk very well, breaking up any lumps from the starch. Tip: when measuring potato starch, it tends to leave gaps in the cup, so make sure you are patting it down and leveling off with your finger.

3. In a small bowl, peel the sweet potato and mash it very well, so no lumps remain. Measure out 1/2 cup, making sure to fill the cup and then level off with your finger, so there is not excess potato. Add the potato to a small bowl with the vanilla and coconut milk and stir really well.

4. Add the wet ingredients to the dry ingredients and stir with a spoon until well mixed and thickens some. The batter should be similar to the consistency of cake batter, not thin, but not as thick as traditional muffin batter. However, if you are subbing with oat flour in place of the potato starch, the batter will be thicker. Just gently smooth out the tops.

5. Divide the batter between 8-12 muffin liners, depending on how tall you want them to be. Bake for 22 minutes (unless you are baking with the oat flour, which it will be 20 minutes), when a toothpick comes out with a few crumbs still on it (but not wet batter) and it lightly springs back when touched. When the muffins come out, they will still be slightly undercooked, but will finish cooking over the next 20 minutes. So, do NOT eat them until they have cooled at least 20 minutes. They will then be incredibly soft, light and moist. Drizzle caramel sauce on top following directions below. The muffins are best eaten within 24 hours, as the starch will cause them to start to dry out after a couple of days. I stored mine in the fridge and preferred them that way.

Directions for caramel
1. Add all of the sweet potato caramel ingredients (except the vanilla) to a food processor and blend until completely smooth, scraping the sides a couple of times during. Taste and add any more sweetener, if desired.

2. Add to a small pot over a stove and turn to medium-low heat. Once it starts boiling, stir with a rubber spoon for a full couple of minutes or so until it thickens up. This should only take a few minutes. Immediately remove from heat and stir in the vanilla. Note that the caramel will thicken up much more as it cools, so don't worry if it's not as thick as you want while it's still warm. It will thicken up more in the fridge as well. Pour into a container and drizzle muffins when they are ready. This caramel sauce would be insane also on ice cream, pancakes, etc.!
Recipes by Course
Recipes by Main Ingredient
Recipes by Cuisine
Recipes by Preparation
Recipes by Occasion
Recipes by Dietary