Side Pannel
TexMex Creamy Roasted Red Pepper Pasta with Blackened Chipotle Chicken, Black Beans & Spinach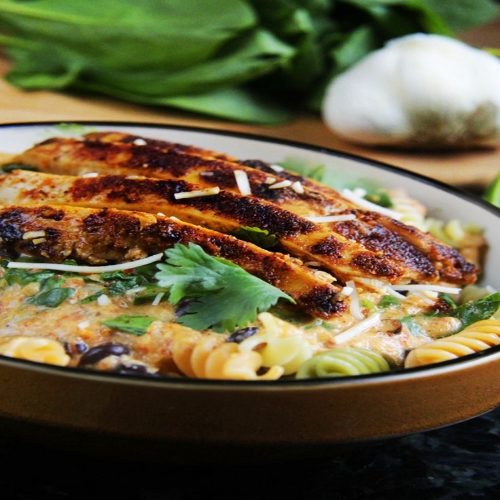 Prep Time:
Cooking Time:
Serves:

4-6 Servings
TexMex Creamy Roasted Red Pepper Pasta with Blackened Chipotle Chicken, Black Beans & Spinach
Category: Healthy Recipes, Main Dish
Ingredients List
8 oz. pasta of choice
2-3 chicken breasts (1 pound), pounded thin
______________________________________________________________
Chicken Rub
2 tablespoons olive oil
1 teaspoon chipotle chili powder
½ teaspoon ground cumin
½ teaspoon smoked paprika
½ teaspoon salt
¼ teaspoon pepper
½ teaspoon onion powder
½ teaspoon garlic powder
______________________________________________________________
Roasted Red Pepper Pasta Sauce:
2 large red bell peppers, seeds and membranes removed, cut in half
1 small white onion, peeled and quartered
4 cloves garlic, peeled
1 tablespoon flour
1 14.5 can chicken broth
½ teaspoon chipotle chili powder
¼ teaspoon cumin
¼ teaspoon smoked paprika
½ teaspoon salt
¼ teaspoon pepper
8 oz. cream cheese, softened
¾ cup black beans, rinsed and drained
1 cup packed fresh spinach, chopped
______________________________________________________________
Garnish:
Cilantro (optional)
Directions
1. In a small bowl, whisk chicken rub ingredients together and rub evenly all over chicken breasts. Set aside.

2. Roast red peppers by placing the halves, skin side up, on a lined (foil/ parchment paper) baking sheet and press them flat with your hand. Broil on the top oven rack for 10-minutes, or until the skins are mostly black. (You may need to rotate your peppers half way through to char evenly.) Once peppers are blackened, place them in a paper bag or freezer bag, and close tightly, allowing them to steam while you prepare the chicken or for at least 10 minutes.

3. Meanwhile, begin cooking pasta according to package directions in generously salted water.

4. Heat large non-stick skillet over medium high heat. Once very hot, add chicken and cook, undisturbed for 3-5 minutes, or until nicely blackened on one side. Turn chicken over, cover, and reduce heat to medium. Cook for approximately 5-8 more minutes (depending on thickness of chicken), or until chicken is cooked through. Remove to a cutting board and let rest 3-5 minutes before slicing.

5. After peppers have been steaming at least 10 minutes, peel the outer charred skin off with your hands "" it will slip right off. Add bell peppers, onion and garlic to a food processor/blender and pulse until smooth.

6. Add red pepper puree to the same skillet your chicken was cooked in (there should still be some oil left "" if not heat 1 tablespoon olive oil) and saute for 5 minutes over medium heat. Stir in 1 tablespoon flour and cook an additional minute. Whisk in chicken broth and bring to a simmer. Add spices listed under "Roasted Red Pepper Pasta Sauce." Simmer until sauce is slightly thickened, 3-5 minutes. Stir in cream cheese until smooth. Add black beans and cook until heated through, then stir in spinach.

7. Add pasta to the sauce and stir until well combined. Top individual servings of pasta with chicken and cilantro.

Recipes by Course
Recipes by Main Ingredient
Recipes by Cuisine
Recipes by Preparation
Recipes by Occasion
Recipes by Dietary