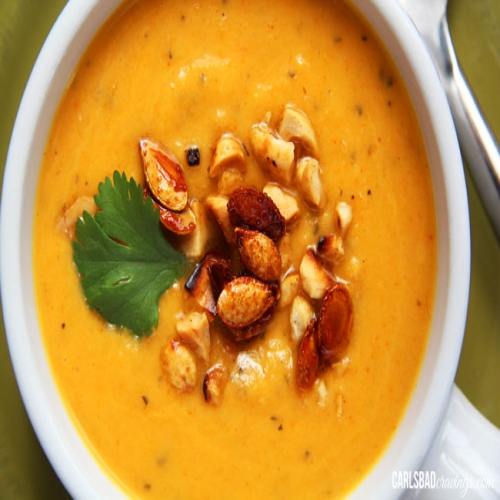 Prep Time:
Cooking Time:
Serves:
Thai Butternut Squash, Sweet Potato Soup with Roasted Honey Sriracha Squash Seeds
Category: Healthy Recipes, Soups, Potatoes, Squash, Thai
Ingredients List
Thai Butternut Squash, Sweet Potato, Carrot Soup
3 tablespoons coconut oil (may substitute olive oil)
1 sweet onion, diced
1/4 cup red curry paste
1/4 teaspoon red pepper flakes (optional)
1 tablespoon freshly grated ginger
8 garlic cloves, minced
3 cups uncooked butternut squash, peeled, cut into 1"cubes, seeds separated
1 large sweet potato, peeled, cut into 1"cubes
3 medium carrots, peeled and chopped
4 cups chicken or vegetable stock
1 teaspoon salt
1/2 teaspoon pepper
1 (14 oz.) can quality coconut milk
2 tablespoons fish sauce
1 tablespoon dried basil
2 tablespoons lime juice
Sriracha/Asian hot chili sauce to taste (optional)
Honey Sriracha Butternut Squash Seeds
Reserved butternut squash seeds
1 tablespoon honey
1/2 teaspoon coconut oil
1/2 teaspoon Sriracha/Asian hot chili sauce
1/2 teaspoon salt
1/4 teaspoon ground cumin
Garnish
Freshly squeezed lime juice
1 cup roasted peanuts, chopped (a must! unless you're allergic)
1/2 cup cilantro, roughly chopped (optional)
Directions
1. Preheat oven to 300 degrees. Line a baking tray with a slip mat, parchment paper or foil sprayed with non-stick cooking spray. Rinse squash seeds and pat dry. In a small bowl, whisk together "seed ingredients;" add seeds and stir until evenly coated. Spread seeds out evenly on baking sheet in a single layer. Cook for 25-30 minutes (or longer) depending on how "crunchy" you like your seeds.
2. Meanwhile, melt coconut oil in a large sauté pan (may use large soup pot or Dutch oven), over medium heat. When oil is hot, add, onions and sauté until onions are soft, about 3 - 5 minutes. Add red curry paste, red pepper flakes, ginger and garlic; stir to combine with onions; saute for 3 minutes. Add squash, sweet potatoes, carrots and chicken stock. Season with 1 teaspoon salt, and ½ teaspoon pepper. Bring to a boil, cover, then reduce heat to medium. Simmer for 15-20 minutes or until vegetables are soft.
3. Meanwhile, dry roast peanuts (even if they are already "dry roasted") in a medium skillet over medium heat, stirring occasionally until golden. Transfer to you food processor or blender and rough chop. Transfer to a bowl or plate.
4. Once vegetables are soft, turn off the heat and get out a second pot (large enough to hold soup). Pour half of the vegetable mixture into blender/food processor. Puree until soup is smooth, taking care to not cover the blender completely or it will explode (I use a paper towel), then transfer to the clean pot. Repeat with remaining soup.
5. Add coconut milk, fish sauce, and basil to the soup and cook until soup is heated through (2-5 minutes). When ready to server, stir in 2 tablespoons lime juice. Taste soup and add desired amount of Sriracha, salt and pepper to taste.
6. To serve, squeeze fresh lime juice onto individual bowls for a fresh pop and garnish with roasted seeds, peanuts and cilantro.

Recipes by Course
Recipes by Main Ingredient
Recipes by Cuisine
Recipes by Preparation
Recipes by Occasion
Recipes by Dietary