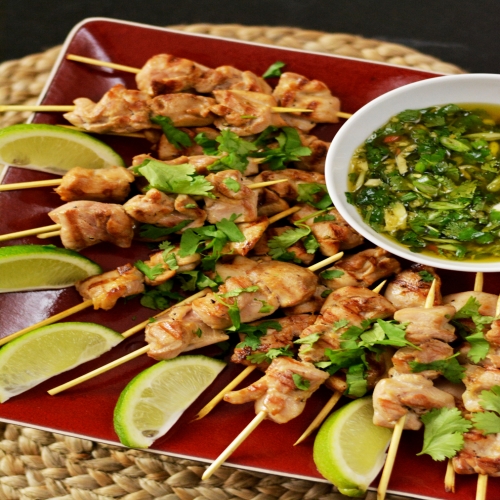 Prep Time:
Cooking Time:
Serves:
Thai Chicken Skewers with Sweet Chili Sauce
Category: Dinner Party, Chili, Chicken, Thai
Ingredients List
1.75 "" 2lbs Boneless Skinless Chicken Thighs
Marinade:
1/2 Lime Juiced
3 Cloves Garlic crushed
1/2"³ Piece Ginger crushed
3 Tbs Soy Sauce
2 Tbs Fish Sauce
2 Tbs Olive Oil
Sweet Chili Sauce:
2-4 Thai Chilies diced
3 Cloves Garlic finely minced
3 Tbs Fish Sauce
2 Tbs Rice Vinegar
1 Lime Juiced
2 Tbs Sugar
1 Tspn Toasted Sesame Oil
3 Tbs Olive Oil
3 Spring Onion thinly sliced
1/3 Cup Cilantro rough chopped
Directions
1. The list of ingredients can look intimidating, but this dish is ridiculously easy and flavorful. It comes down to a marinade and a sauce, that"™s all there is to it.

2. Thighs really do have a lot more flavor than breast meat and that"™s why I suggest them for this recipe. However, if fat or cholesterol is a concern, then by all means use white meat. Just adjust for grill time to avoid drying them out. For the chicken, simply trim some of the fat from the meat and then cut them into bite-sized pieces.

3. Combine the ingredients for the marinade, including the chicken and let marinade for at least 2 hours.

4. The longer the sauce sits the better the flavor will develop, so it"™s best to make it now and let it sit while the chicken is marinating. If you have a mortar and pestle, it is best to grind the garlic, chilies and sugar together to really bring the flavors out. The sugar is used like sandpaper to help make a puree. Combine the ingredients and don"™t be cheap with the cilantro, more is better then less in this case. Refrigerate if making ahead.

5. I cut my skewers in two using kitchen shears to make smaller, appetizer style portions. If you are using an outdoor grill for this, then make sure you soak the skewers for 30 minutes to prevent them from burning.

6. Skewer the chicken through the length of the chicken pieces, trying to get even thickness the whole way. Grill the chicken on high heat to sear and keep warm in a low oven.

7. Remove your sauce an hour before serving. Arrange the skewers decoratively around your sauce and garnish with lime wedges and cilantro.
Recipes by Course
Recipes by Main Ingredient
Recipes by Cuisine
Recipes by Preparation
Recipes by Occasion
Recipes by Dietary