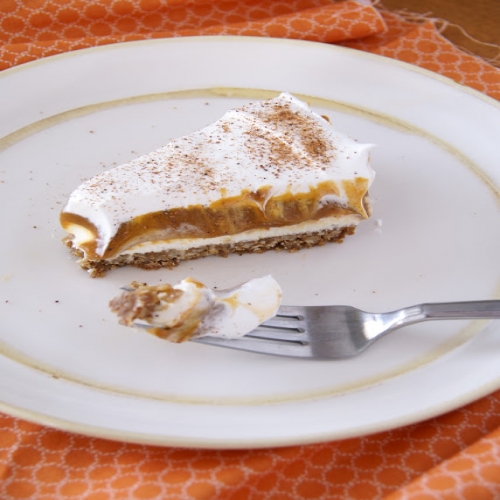 Prep Time:

1-hour

Cooking Time:

20-minutes

Serves:

8 slices
Category: Pies, Desserts, Holiday
Ingredients List
Ingredient in the crust:
3 cups of salted pretzels
1/2 cup of brown sugar
10 tablespoons of butter - don't hate me
Ingredients for the cream cheese layer:
1 (8oz.) package of cream cheese, softened
1 cup of powdered sugar
1 and 1/2 cup of cool whip
1 dribble of vanilla (about a teaspoon)
Ingredients in the pudding mixture:
2 (3.4 oz) package of pumpkin spic Jello pudding - find it on Amazon
2 and 3/4 cups cold milk
1 teaspoon pumpkin spice
1/2 teaspoon cinnamon
1 teaspoon corn starch - to thicken it (you can skip this if you are using a 13x9)
Ingredients for the topping:
1 cup of cool whip
Nutmeg, to taste
Cloves, to taste
Directions
Directions for the crust:
Crush the pretzels either using a food processor or just do it the old fashioned way with a rolling pin and a plastic bag. Melt the butter, and add the three ingredients into a bowl and mix together well. Coat the bottom of a greased pan as evenly as you can, trying to make sure there are no gaps. Bake at 350 for about 18-20 minutes.

Remove from the oven and set aside - you do not want to add any additional layers to this until it's completely cooled.

Directions for the cream cheese layer:
Beat the cream cheese until soft. Stir in the remaining ingredients until smooth. Assuming your crust is cooled completely, spread this mixture over the top covering every inch. Place in the fridge.

Directions for the pudding layer:
Beat together all ingredients with a whisk. Set in the fridge to let it thicken. When set (about 25-30 minutes later) pour over the cream cheese mixture.

Finally, spread the cool whip over the top and sprinkle with nutmeg and cloves. Leave in the fridge overnight, and serve it cold.

Recipes by Course
Recipes by Main Ingredient
Recipes by Cuisine
Recipes by Preparation
Recipes by Occasion
Recipes by Dietary