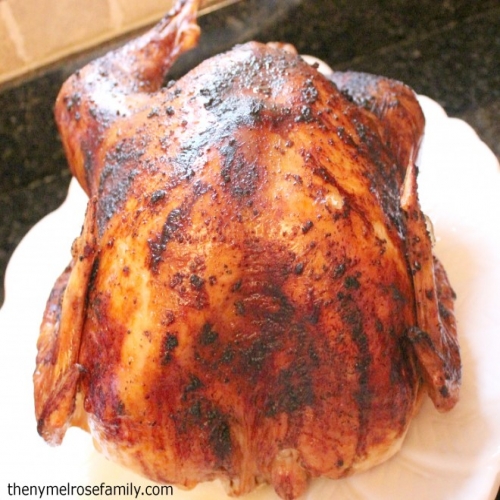 Prep Time:

20-minutes

Cooking Time:

3 hours 30 minutes

Serves:

16-servings
The Perfect Roast Turkey Recipe.
Category: Dinner Party, Main Dish, Onions, Peppers, Meat
Ingredients List
1 15lb turkey
1 stick of butter
salt
pepper
onion powder
3 cloves of garlic minced
2 onions chopped
3 carrots chopped
3 stalks of celery chopped
1 cup of water
Directions
1. Preheat the oven to 500 F.

2. Remove the gizzard and giblets from inside the turkey's cavity.

3. Thoroughly clean, rinse and dry the outside and cavity of the turkey.

4. Lather the turkey with at least ½ stick of butter and try to get under the skin of the turkey as well.

5. Generously sprinkle salt, pepper and onion powder over the lathered butter.

6. Rub the seasoning evenly over the outside of the turkey.

7. Place the rest of the butter inside the cavity of the turkey.

8. Add 1 chopped onion and 3 cloves of garlic minced.

9. Pour 1 cup of water into the bottom of the roasting pan and add the other chopped onion, 3 chopped carrots and 3 stalks of celery chopped.

10. Roast turkey at 500 F for about 20 minutes or until the turkey begins to brown.

11. Reduce heat to 350 F and continue to roast.

12. Baste the turkey every 30 minutes with the drippings and liquid in the bottom of the roasting pan.

13. The turkey is done once a thermometer stuck into the thickest part of the bird reads 155 to 165 F.

14. It should take about 3 hours and 30 minutes for the bird to cook, but make sure to use a thermometer.

15. Remove the turkey from the oven and let set for 20 minutes before carving.

Recipes by Course
Recipes by Main Ingredient
Recipes by Cuisine
Recipes by Preparation
Recipes by Occasion
Recipes by Dietary