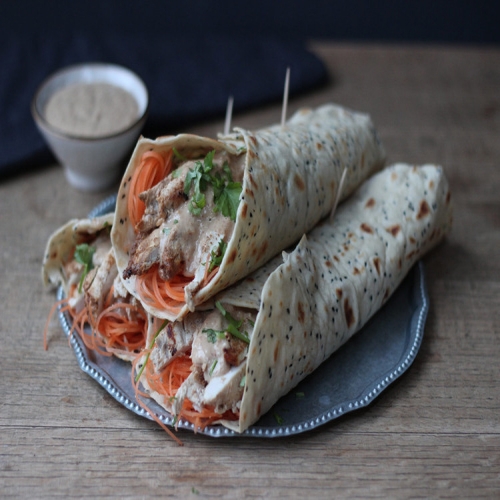 Prep Time:
Cooking Time:
Serves:
This last fortnight has been filled with culinary experimentation.
Category: Main Dish, Dinner Party, Chicken, Carrots, Beens
Ingredients List
First the zingy carrot noodles
1 large carrot, I have a noodle making contraption called a spiralizer for vegetables but if you don"™t have one simply use a grater. Peel, top and tail and spiralized or grated
25mls lime juice
25mls soy sauce
A little freshly minced ginger
For the satay (adapted slightly from this Gordon Ramsay recipe)
1 small red onion, peeled and topped
1 tsp garlic
1 tsp ginger
1 tsp tamarind pulp
5 tbsp wholenut/crunchy peanut butter
1 tbsp dark soy sauce
1 tbsp vegetable oil
100mls coconut milk
50mls water
Juice of half a lime
1 tablespoon brown sugar
For the Thai chicken
30g of my Thai Blend, or:
2 tsp salt
2 tsp sugar
1 tsp ground ginger
1 tsp ground galangal
1 tsp ground lemongrass
1 tsp ground star anise
1 tsp ground green peppercorns
1 tsp ground coriander seed
1/2 tsp ground garlic
1/2 tsp onion powder
Juice of half a lime
500mls natural yogurt "" don"™t use one that is an extra low fat variety
4 chicken breasts, between baking paper and flattened out with a rolling pin or meat mallet Coriander to serve
For the wraps "" makes six large wraps so you"™ll have two left over
245g plain flour, sifted
1/2 tsp baking powder
1/2 tsp salt
8g black onion seeds
50mls vegetable or groundnut oil
130mls warm wate
Directions
1. Start with the chicken marinade. Mix the dry spice ingredients together in a bowl and add the yogurt and lime juice, mix thoroughly.

2. In a tupperware box pour enough yogurt in to cover the base, then lay one breast over the yogurt. Pour more yogurt marinade over it and then lay the next breast over the top, repeat until you have all four of the chicken breasts in the box and they are covered all over with the marinade. Leave in the fridge for 12 hours.

3. When they"™ve marinaded for that time, take each out of the bowl and put into a sous vide pouch, creating four pouches. Leave them on the kitchen worktop to warm up a little while the sous vide comes to temperature "" 64°C. When at temperature place the chicken into the water bath and leave to cook for 40 minutes to 1 hour.

4. For the wraps. Combine all the dry ingredients in a bowl and mix thoroughly, then add the oil and water and bring together into a dough. Knead for about 5 minutes until the dough springs back a little when prodded, then put in a bowl and cover with clingfilm "" leave for 30 minutes.

5. After 30 minutes break the dough into 6 evenish pieces "" do not knead it again. Lightly flour a work surface and take the ball of dough and roll it out with a rolling pin. Turning it over and making sure it has flour to prevent sticking. Don"™t worry about the wraps being an irregular shape "" it adds to their charm. Roll them as thin as you can "" when you hear the black onion seeds crunching you know you"™ve gone as thin as you"™re able to.

6. Bring a large frying pan to a high heat (no oil) and lay the first wrap in there. Keep an eye on it and when it begins bubbling up all over, turn it over. You want it to turn pale all over but the bubbles to have turned lightly golden. Remove from the pan and place on baking paper and then top with another sheet. Repeat with the other six wraps and layer them up between baking paper sheets, then cover the whole lot with a damp cloth until needed.

7. Now for the satay. Place all the satay ingredients into a food processor and blitz until smooth, decant into a bowl.

8. Take the carrot noodles and place into a bowl, mix together the soy, ginger and lime and pour over the noodles, tossing with your hands until dressed.

9. Take the chicken out of the sous vide and out of their pouches. Heat a good non stick frying pan until very very hot and place the chicken into it, wait around 40 seconds to 1 minute and then turn over, once done remove from the pan to a chopping board. Roughly cut the breast meat up into large strips.

10. Now for the assembly "" carrot noodles on the base of the wrap, then the chicken, followed by the satay and some coriander leaves. Wrap up, stack up and devour.
Recipes by Course
Recipes by Main Ingredient
Recipes by Cuisine
Recipes by Preparation
Recipes by Occasion
Recipes by Dietary