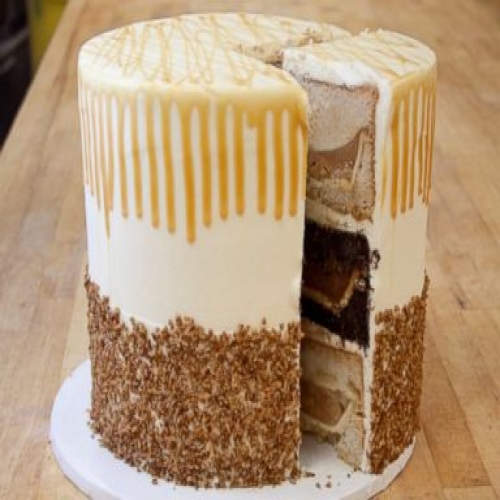 Prep Time:
Cooking Time:
Serves:
Three Brothers Bakery's Pumpecapple Piecake
Recipe Submitted by

Rosemary

on

11/27/2014
Category: Holiday, Kids, Pies, Cakes
Ingredients List
1 apple pie (homemade or store-bought)
1 pecan pie (homemade or store-bought)
1 pumpkin pie (homemade or store-bought)
Chocolate cake batter, mixed
Apple spice cake batter, mixed
Pumpkin spice cake batter (can be made using white cake mix with pumpkin spice mixed in), mixed
Cream cheese icing
Crushed pecans
Caramel
Directions
1. The apple pie will be baked inside the spice cake batter, the pecan pie baked inside the chocolate cake batter, and the pumpkin pie will be baked inside spice cake batter.

2. Pour about 1/3 of one of the batters into a 3" deep cake pan. Remove the pie from the pie pan and place it into the cake pan. Cover the pie with the remaining cake batter. Repeat for each pie in separate cake pans.

3. Put the batter-covered pies in the oven to cook, at 350 degrees, for about 40 minutes, or until golden and done all the way through. Let the piecakes sit until fully cooled, or place in the refrigerator to cool.
Once cooled, remove each piecake from its pan by turning it upside down and tapping it out. Don't worry if a few pieces of the edge fall off.
Begin with the apple pie spice cake. Place this layer on a thick, sturdy pie board. Cut off any edges that are sticking out so that the edges are smooth. Cover the top with cream cheese icing, enough to create a layer of filling and a "glue" to hold the layers together. You will want the icing to be cool enough to work with, but not so warm that it melts.

4. Place the pecan pie chocolate cake on top of the iced apple layer. Make sure these layers are centered, and cut off any excess pieces. Cover the pecan layer with cream cheese icing.

5. Place the pumpkin pie spice cake on top of the iced pecan layer. Again, make sure all layers are centered and cut off any excess. Cover this layer with cream cheese icing.

6. Smooth out the icing on the sides of the piecake. Use the remaining cream cheese icing to cover the outside of the piecake, and smooth out all sides, as well as the top. We recommend using a cake turntable to easily access the whole piecake.

7. Once all of the icing is smooth, put pecan pieces along the bottom portion of the piecake. Finally, create a caramel drizzle by putting melted caramel in a piping bag (or a sandwich baggie with a hole cut in the edge) and drizzling along the top.
Recipes by Course
Recipes by Main Ingredient
Recipes by Cuisine
Recipes by Preparation
Recipes by Occasion
Recipes by Dietary