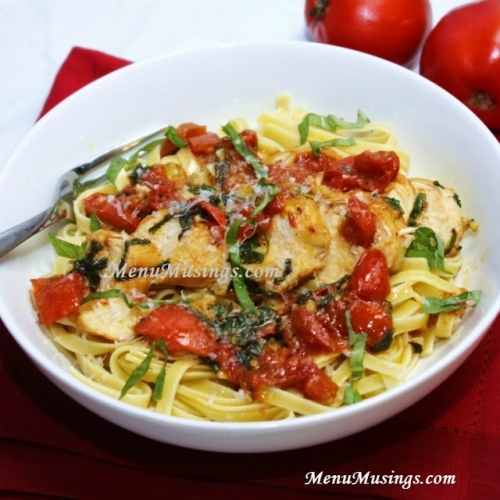 Prep Time:
Cooking Time:
Serves:

4 Servings
Tomato Basil Chicken-ii
Recipe Submitted by

GORP

on

07/23/2014
Category: Chicken, Tomatoes, Main Dish, Healthy Recipes
Ingredients List
2 chicken breasts
kosher salt and black pepper
2 Tbsp extra virgin olive oil
2 cups chopped fresh tomatoes
2 tsp minced fresh garlic
4 Tbsp cold butter
1/2 cup fresh basil, chopped
freshly grated Parmigiano reggiano cheese, for garnish
Directions
Season chicken breasts with kosher salt and fresh cracked black pepper.

Cooks note: The granules of kosher salt are larger than "table salt," which makes it harder to over salt your food. The freshly cracked black pepper tastes much "fresher" than the stuff in the can. If you want the chicken to cook a little faster, consider pounding them out just a little so they are more of a uniform thickness.

Add a couple of tablespoons of extra virgin olive oil to your skillet. This may seem like quite a bit, but it will form the base for the sauce.

While waiting for the oil to heat up, go ahead and get your water going for the pasta. If you don't do it early, you'll have to sit and wait on the pasta to be done at the end.

When the oil is HOT, add the chicken breasts. If the oil does not start sizzling immediately, then its not hot enough! Adding meat to cold/cool oil will give you greasy meat!! I think next time I make this dish, I will add some dried basil or Italian seasoning to my salt and pepper on the chicken.

After about 4-5 minutes, the chicken breasts should be ready to turn. By the way, when did chicken breasts get SO HUGE?! You'll want to cook them on the second side another 4-5 minutes,or until the juices run clear when you pierce them with a small sharp knife. You don't want to OVER cook them, or they will be dry and tough. If you pounded yours out thinner, they will cook faster than this.

After the second side has been cooking for about 4 minutes, go ahead and add in the fresh tomatoes that you have chopped up. There will be lots of steam, spitting, and sputtering!

Next, add the fresh basil that you have chopped into ribbons.

Next, add in the cold butter. This will make the sauce silky.

Then the minced garlic.

You will probably want to add some more kosher salt and black pepper to season the sauce.


Now give it all a good stir so all those flavors will marry together. When your chicken is "done," turn the sauce down on the lowest setting to keep it all warm until the pasta is cooked, which should be any minute now. :) At this point, if still waiting for the pasta, you can remove the cooked chicken to a cutting board, and after resting just a couple of minutes, cut the chicken into slices on the bias.

Divide the pasta among individual bowls, and top each with half of a chicken breast, sliced into pieces, and equal portions of the tomato basil sauce. Top with more fresh basil and freshly grated Parmigiana reggiano cheese.

... and one of the BEST things is...this makes FABULOUS left overs to take to work the next day!
Recipes by Course
Recipes by Main Ingredient
Recipes by Cuisine
Recipes by Preparation
Recipes by Occasion
Recipes by Dietary