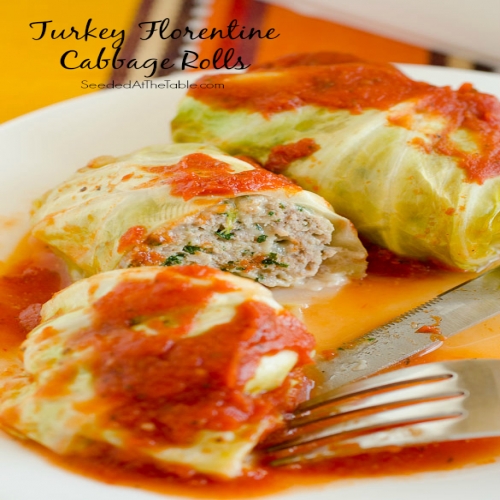 Prep Time:

25 Minutes

Cooking Time:

1 Hour

Serves:

4-5 Servings
Turkey Florentine Stuffed Cabbage Rolls
Category: Breakfast, Lunch/Snacks, Rolls
Ingredients List
2-3 Tablespoons extra-virgin olive oil, divided
2 small cloves garlic, pressed
4 cups fresh baby spinach
Half of a yellow onion, finely chopped
1 medium green cabbage
1 1/4 lb ground turkey
1/4 cup grated Parmesan cheese
3/4 cup shredded Mozzarella
1/2 teaspoon Italian seasoning
2 cups marinara sauce
Directions
Preheat oven to 350 degrees F. Lightly grease a 13- by 9-inch pan with cooking spray.

In a medium skillet, heat 1 tablespoon olive oil over medium heat. Add the pressed garlic and cook until fragrant, about 1 minute. Toss in the fresh spinach and allow to cook for 1 minute, then use tongs to toss and cook for another minute. Cook for a total of 2 minutes, until the spinach is welted and cover with the garlic oil. Transfer to a cutting board and chop into small pieces. Set aside to cool.

Wipe out the skillet and heat another 1-2 tablespoons of oil over medium-high heat. Add the onions and cook until translucent, about 5-7 minutes. Set aside to cool.

Bring a large pot of salted water to a boil. Using a small sharp knife, cut a circle all around the stem of the cabbage and remove the bottom core. Place the cabbage head into the boiling water. After about 2 minutes, and outside leaf will come loose -- pull it off and out of the water using tongs. After another minute, the next leaf will come loose. Remove and repeat until you have 8 to 10 leaves. Pat the leaves dry with paper towels. Cut out (in a "V"-shape) the thick part of the rib from the bottom of each leaf, but don't cut more than a third of the way into the leaf.

In a large mixing bowl, combine the turkey, cooled spinach and onion, Parmesan, mozzarella, Italian seasoning and 1/2 cup of the marinara. Use your hands to make sure it is thoroughly mixed.

With the stem side of the cabbage leaf facing you, place about 1/3 cup of the turkey mixture in the center of each cabbage leaf. Fold the bottom edge of the leaf over the mixture and then fold the sides over and roll into a tidy packet. Place each roll, seam side down, in the prepared baking dish.

Pour the remaining 1 1/2 cups marinara sauce evenly over top of the cabbage rolls. Cover with foil and bake for 50 minutes to 1 hour, until the meat is cooked through.
Recipes by Course
Recipes by Main Ingredient
Recipes by Cuisine
Recipes by Preparation
Recipes by Occasion
Recipes by Dietary