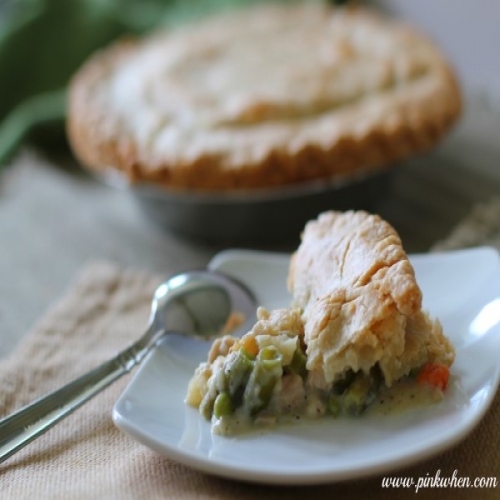 Prep Time:
Cooking Time:
Serves:
Category: Dinner Party, Peppers, Greens, Pies, Chicken
Ingredients List
4 cups cooked Turkey
4 9"³ pie crusts (not frozen)
1 1/3 cups milk
1 3/4 cups chicken broth
2/3 cups all-purpose flour
2/3 cup chopped onion
1 tsp salt
1 tsp black pepper
2/3 cup butter
2 cups frozen green beans
1 cup sliced celery
2 cups frozen peas and carrots
1/2 tsp celery seed
1/2 tsp onion powder
1/2 tsp Italian seasonin
Directions
Step 1: Preheat oven to 425 degrees. Mix your celery, green beans, peas and carrots in a saucepan and cover with water. Bring to a boil, and then lower heat and simmer for 8 minute. Stirring occasionally. Drain.

Step 2: Melt the butter in a sauce pan and cook and simmer the onion until clear for about 8 minutes. Stir in 2/3 cup flour, salt and pepper, celery seed, onion powder, Italian seasoning. Slowly whisk in the chicken broth and milk, stirring constantly until the the mixture begins to thicken and then simmer lightly until thickened. Remove from heat and mix with the drained cooked vegetables and turkey.

Step 3: Fill two pie crusts with your turkey and vegetable mixture. Carefully top each pie with another pie crust, pinching the sides together. Cut several small slits into the top of the pie crust to allow the pies to vent while cooking.

Step 4: Bake uncovered in the preheated oven until the pies are golden brown, about 30 minutes. If the tops of the pies are browning too quickly, place a sheet of foil over the pie crusts and continue to bake. Cool for about 10 minutes before serving.
Recipes by Course
Recipes by Main Ingredient
Recipes by Cuisine
Recipes by Preparation
Recipes by Occasion
Recipes by Dietary