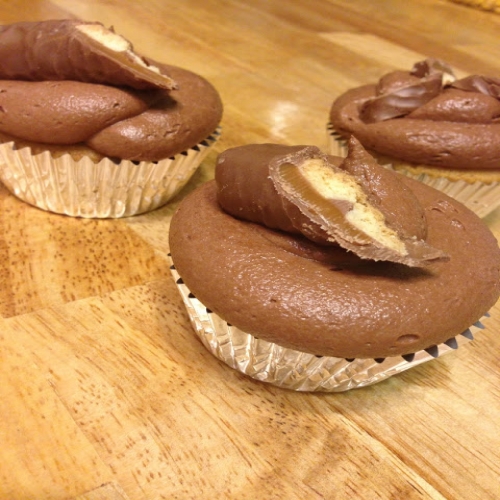 Prep Time:
Cooking Time:
Serves:

36 cupcakes
Twix Butter Cupcake Recipe
Recipe Submitted by

Gemini

on

11/27/2014
Category: Kids, Gifts, Holiday, Cakes
Ingredients List
~~~~~~~~~ Cookie Bottom:~~~~~~~~~~
1 cup of unsalted butter
1 tsp. kosher salt
¾ cup white sugar
2 cups Flour
1 tsp. vanilla extract
~~~~~~~~~~~Dulce de leche cupcake:~~~~~~~~~~
1 ½ cups of flour
1 ½ cups of cake flour
2 tsp. baking powder
¼ tsp baking soda
1 ½ sticks of unsalted butter
1 1/3 cups of sugar
¾ tsp of salt
½ cup of dulce de leche
4 eggs
¼ cup canola oil
2 tsp vanilla extract
¾ cup of buttermilk
~~~~~~~~~~~~~Carmel:~~~~~~~~~~~~~
1 stick of butter
1 cup brown sugar
1 cup light corn syrup
1 can sweetened condensed milk
~~~~~~~~~~~~~~Chocolate frosting:~~~~~~~~~~
2 11.5 oz bags of giradelli chocolate chips
½ cup cocoa powder
½ cup of hot water
4 sticks of unsalted butter
4 ½ cups of powdered sugar
Directions
Preheat oven to 350 degrees.

Cookie Bottom Directions:

Cream 1 cup of the butter, salt, sugar and vanilla together until thoroughly combined. Refrain from eating this. It"™ll totally mess up your ratios. Add the flour and blend until the mixture resembles moist sand with pieces the size of peas scattered throughout. If you take a small handful and squeeze it, the mixture should hold together well.

Take about a tablespoon and then press it down in the bottom of the cupcake liners. Put in the oven for 7 minutes and then pull out and let them cool.

Cupcake Directions:

In a medium bowl, whisk together the flours, baking powder, and baking soda.

In a stand mixer fitted with the paddle attachment (or a large bowl if using a hand-held mixer), beat the butter, sugar, and salt on medium speed until light and fluffy, about 2 minutes, scraping down the sides of the bowl as necessary. With the mixer running, gradually add the dulce de leche; beat another minute, until thoroughly incorporated. Add the eggs one at a time, beating well after each addition, then mix in the oil and vanilla. Reduce the mixer speed to low; add the dry ingredients in three additions, alternating with the buttermilk and ending with the dry ingredients. Beat each addition just until incorporated.

Divide the batter between the prepared cupcake liners on top of the cookie bottom, filling each cup about two-thirds full. Bake for 15-20 minutes, until a toothpick inserted into the center of a cupcake comes out clean. Transfer the pan to a wire rack to cool.

Carmel Directions:

In a large saucepan combine butter, brown sugar, and light corn syrup until everything has melted and the mixture comes to a boil.

Reduce to low heat and add the sweetened condensed milk. Stir continuously for about 5 minutes. The longer you stir the firmer your caramel will be, so don"™t stir too long or you will make a caramel lollipop.

Let cool, then fill a piping bag with the cream mixture and use a #4 or a #5 tip (a long skinny tip) to pipe the mixture into the cupcakes. Make sure that you don"™t over-fill the cupcakes or they will break.

Chocolate Frosting directions:

Melt the chocolate chips until smooth, let cool. Then add cocoa and hot water and blend together and let cool.

Cream softened butter in stand mixer and then add chocolate mixer, and gradually add powdered sugar. It tastes a little bit like fudge. Once you frost the cupcakes I suggest putting them in the fridge and let everything set up.

Decorate with a mini Twix or we just cut up a regular sized Twix to garnish the top. So cute and so good! Enjoy!!
Recipes by Course
Recipes by Main Ingredient
Recipes by Cuisine
Recipes by Preparation
Recipes by Occasion
Recipes by Dietary