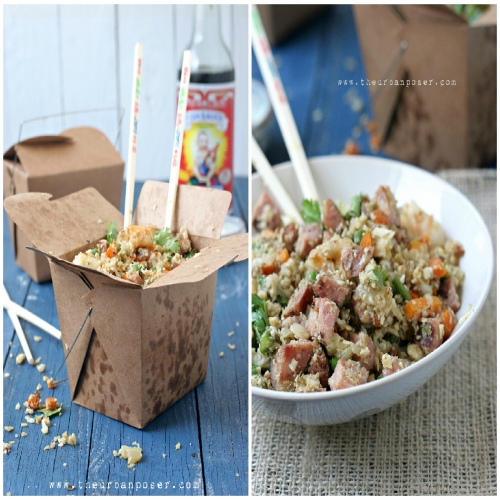 Prep Time:
Cooking Time:
Serves:
Vietnamese Cauli-Fried Rice W/Nuoc Cham Sauce
Category: Dinner Party, Rice
Ingredients List
3 cups of grated cauliflower (about 1 large head)
2-3 tablespoons coconut oil or preferred cooking oil
1 cup carrots, diced
1 cup onion, diced
3-5 garlic cloves, minced
1 cup asparagus, diced
1 cup sausage, chopped (traditionally Chinese sausage is used, I used Kielbasa)
1 cup raw shrimp (about 9 large 16 count shrimp, raw or cooked) chopped
2 large eggs, cracked & lightly beaten
1/4 cup spring onions, chopped
1/4 cilantro
Coarse sea salt and cracked pepper to taste (less salt is needed if using the sauce below)
Directions
1. Grate the Cauliflower using a food processor with the grater attachment or use a hand grater. Using the food processor w/o attachment will work to, but the texture won't be as light.

2. Prep the rest of the ingredients as stated in the ingredient list above. I find it helpful to put each ingredient into a separate prep bowl.

3. You will need 2 pans/woks for best results.(unless you cut the recipe in half)

Note:

Flat bottomed woks work best on a stove top as opposed to the traditional style. You could also use a regular frying pan. Two woks are are need because if you overfill a pan when stir frying, you will cause the ingredients to steam instead of brown and 'fry'. It is important to have room to spread out the ingredients while cooking. For this reason I just cook the 'rice in one pan and the veggies in the other, then combine at the end.

5. Add the oil, the onions, garlic and carrots to one of the woks/pan, preheated over medium heat. Fry till the onions till soft and translucent.

6. While the onions, garlic and carrots are cooking, heat the other wok/pan over high heat, add about 1 tablespoon oil. Now add the cauliflower and cook the same as you would the veggies/protein. Spreading out and frying the cauliflower, allowing it to brown some, tossing and allowing to brown again. This will take about 5 minutes on a high heat. (High heat and fast cooking is what keeps it from being soggy. Find a temp on your stove top that works for you.)

7. Make a well in the center of the cauliflower. Add the beaten egg and stir until it just begins to thicken, but is still wet. Toss the egg throughout the 'rice'. Continue with tossing till the rice is no longer wet. Rice should become nice and fluffy with bits of egg throughout, not large scrambles of it...unless you like it that way. Remove form heat when done and set aside.

Recipes by Course
Recipes by Main Ingredient
Recipes by Cuisine
Recipes by Preparation
Recipes by Occasion
Recipes by Dietary