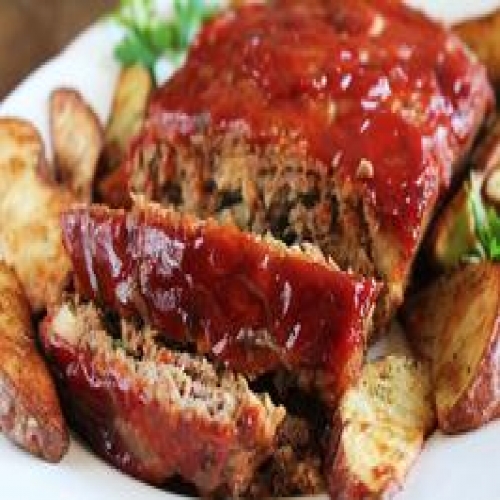 Prep Time:

20 minutes

Cooking Time:

1 hour

Serves:

4-5
Virginia There is a Great Meatloaf
Category: Dinner Party, Healthy Recipes, Main Dish, Beef
Ingredients List
1 1/2 lbs ground beef (ground shoulder roast is good)
1 slice bread (broken or chopped finely)
1 egg
1 small vidalia onions or 1 small type sweet onion, finely chopped
1 teaspoon table salt
1/4 teaspoon black pepper
4 tablespoons ketchup
1/2-2/3 cup whole milk or 1/2-2/3 cup half-and-half
Sauce
4 tablespoons apple cider vinegar
2 -4 tablespoons dark brown sugar, packed firm (to taste)
1/2 cup ketchup
Directions

1
Meatloaf: Combine meat loaf ingredients and place into a loaf baking dish.
2
Smooth out top.
3
Sauce: Combine sauce ingredients and pour on top and sides of meatloaf.
4
Bake at 350°F about 1 hour to 1 hour 15 minutes or until done.
5
ENJOY!
6
*The addition of 1 or 2 teaspoons of Kitchen Bouquet® makes this recipe very good.
7
**Recipe should be"plump" from the addition of the milk or Half & Half.
8
It should NOT be runny.
9
***A second batch of sauce served hot is good to serve with the meatloaf.
10
Nita's Note: I note that some of you are using game meat such as deer -- Deer is a very DRY meat. It is wise to HAVE some fat added to the deer -- especially to ground deer. Maybe 25 % fat, ( I recommend 1 lb of ground venison, and 1/2 lb of deer sausage for fat content), otherwise your results will be poor. I don't know about some of the other game meat some are using. Please consult and expert. The recipe is delicious as it stands! Enjoy! Nita Holleman.


Recipes by Course
Recipes by Main Ingredient
Recipes by Cuisine
Recipes by Preparation
Recipes by Occasion
Recipes by Dietary