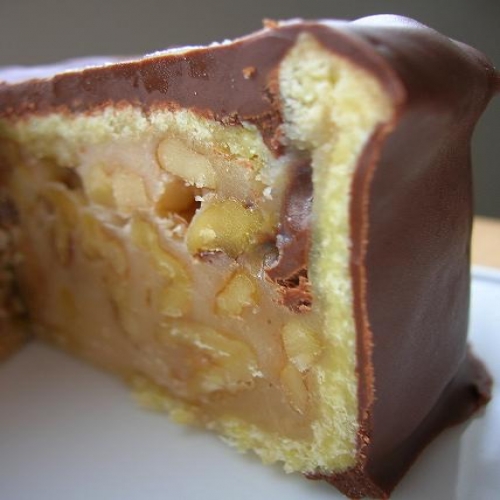 Prep Time:
Cooking Time:
Serves:
Whipped Cream Chocolate Walnut-Caramel Cake
Recipe Submitted by

Cobb

on

12/08/2014
Category: Holiday, Desserts, Chocolate
Ingredients List
1 ½ cups sugar
1 cup water
1 cup whipped cream
2 ½ cups walnut half"™s
7 TBSP unsalted butter. softened
1 egg white, lightly beaten
½ cup apricot preserves
6 ounces semisweet chocolate
4 TBSP unsalted butter
Sweet Tart Pastry
10 TBSP cold butter
4 egg yolks
¼ tsp salt
½ cup sugar
1 tsp vanilla extract 1 ¾ cups flour
Directions
1.Prepare Sweet Tart Pastry: Line bottom of an 8-inch diameter, 1 ½ inch deep, round cake pan(I used a spring form) with a circle of parchment paper. Brush sides of pan with melted butter. Roll out the larger piece of dough into a circle 1/8 inch thick and 10 inches in diameter. Mold the dough to bottom and sides of pan with gentle finger pressure. If the dough breaks as you are trying to fit it into the pan, just press into into the pan all around in and even layer. Patch holes with small pieces of dough. The bottom and sides of the pan must be covered with an even layer of pastry; none of the pan should show through. Wrap pastry shell and refrigerate while you make filling. Roll out the small piece of dough into a circle 1/8 inch thick and 8 inches in diameter. Prick all over with a fork. Place on waxed paper-lined baking sheet, cover and refrigerate.

2. Place sugar and water in a 2 ½ quart saucepan, stir until sugar dissolves and syrup comes to a boil. Boil, without stirring, until sugar is a light caramel color.(320F on a candy thermometer). Remove from heat.

3.Add cream and stir to blend. Then stir in the walnuts and the 7 TBSP soft butter. Return to heat, and bring to a boil, stirring constantly. Boil gently until the syrup reaches 225F on candy thermometer. Remove from heat. Cool for 40 minutes, stirring occasionally. Preheat oven to 375F.

4.Brush inside of pastry-lined cake pan with a thin layer of egg white to moisture proof shell. Spread cooled caramel filling in bottom of shell. Trim the sides of pastry shell to 1/8 inch above filling. Place pastry lid on top; press to seal at edges.

5.Bake until pastry is golden brown(40-50 minutes). Remove from oven; cool in pan 30 minutes. Turn out onto a wire rack to cool. Cool completely before covering with chocolate glaze.

6.Heat apricot preserves until melted and bubbly. Strain to remove piece of fruit. Brush entire surface of cooled pastry with warm preserves.

7.To make chocolate glaze: Break chocolate into small pieces and place in a small stainless steel bowl over a pot of hot(not boiling)water. Melt the 4 TBSP butter in a small saucepan, and skim off the white foam that rises to the top. When chocolate is just melted, stir in the clarified butter(discard the white solids left behind). Set aside until chocolate is 86F.
8.Slide cake onto a cardboard cake circle(covered with foil) that is slightly small in diameter that the cake. Place cake on a wire rack over a rimmed baking sheet. Pour chocolate glaze over cake and using a narrow metal spatula, quickly pared it evenly over the top and sides of the cake. Allow chocolate to set to firm consistency before serving.
9.Store cake at cool room temperature. If refrigerated, allow to warm to room temperature before serving.
Recipes by Course
Recipes by Main Ingredient
Recipes by Cuisine
Recipes by Preparation
Recipes by Occasion
Recipes by Dietary