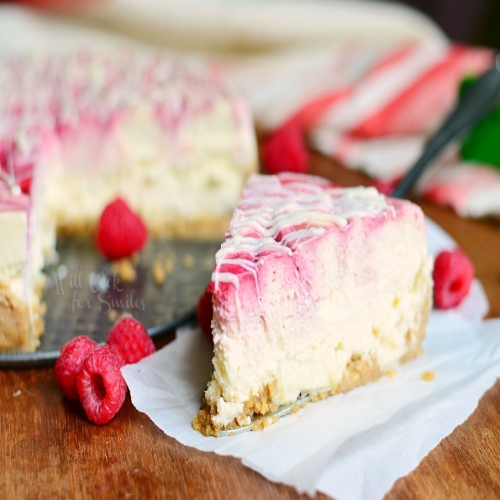 Prep Time:
Cooking Time:
Serves:
White Chocolate Raspberry Swirl Cheesecake
Category: Kids, Cheesecakes, Chocolate
Ingredients List
Crust:
1 1/2 cups graham cracker crumbs
1/4 cup dark brown sugar
5 Tbsp butter, melted
1 tsp vanilla
1 4.4 oz. white chocolate bar (goes on top of pressed crust)
Cheesecake:
3 8-oz cream cheese packs
3/4 cup of heavy cream
2 tbs plain yogurt
2 eggs
1 tsp vanilla extract
1 1/2 Tbsp corn starch
1/2 cup of white granulated sugar
Raspberry topping:
6 oz raspberries
1/2 cup white granulated sugar
1 Tbsp lemon juice
1 tsp vanilla extract
1/2 Tbsp cornstarch
Topping:
2 oz white chocolate, melted
Directions
1. Grease a 9-inch spring form and set it aside. Preheat the oven to 325.
2. For crust: Mix the graham cracker crumbs, sugar, melted butter and vanilla. Stir very well, until all incorporated. Press graham cracker mixture into the pan, evenly, all over the bottom and about half way up the side. Break up the chocolate into small rectangles and layer them on top of crust, evenly all over the bottom.

Cheesecake:

3. Start beating cream cheese and sugar on medium high speed until smooth, about 2 minutes.
4. Add vanilla extract, and yogurt. Mix until combined.
Add eggs, one at the time, beating after each addition. Scrape sides and bottom of the bowl and beat until all incorporated.
5. Add corn starch and while on medium low, pour in heavy cream. Mix until all combined, scrape the sides and bottom of the bowl and mix again.
6. Pour the cheesecake batter into the spring form with crust.

Raspberry topping:

7. In a small sauce pot, over medium heat, combine raspberries, vanilla, lemon juice and sugar. Mix well and cook, over medium heat and covered for about 10 minutes. Smash all the berries with a wooden spoon and cook for another 10 minutes on medium-low heat.
8. Whisk in cornstarch and strain the mixture through a fine strainer to get rid of the seeds and leftover skin. The mixture should be thickened.
9. Pour it slowly over the top of the cheesecake and carefully swirl it in to the cheesecake but don't mix.
10. Place the spring form in the oven, inside a large roasting pan. Carefully add some hot water to the roasting pan, filling it about 1/2 of the way up the side of the spring form.
11. Bake for 70-75 minutes. Sides of the cheesecake should be set but still a little jiggle in the center.
12. Let cook completely and refrigerate until ready to serve.
Recipes by Course
Recipes by Main Ingredient
Recipes by Cuisine
Recipes by Preparation
Recipes by Occasion
Recipes by Dietary