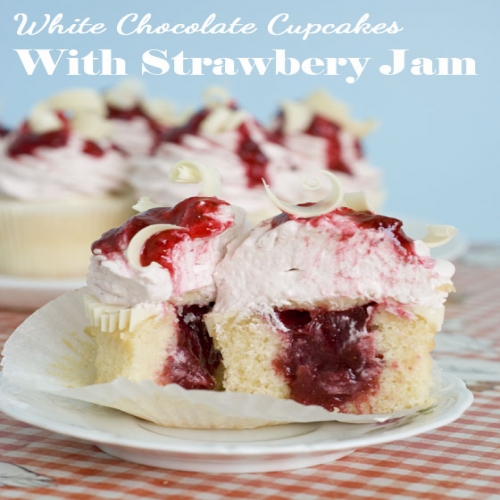 Prep Time:

20-minutes

Cooking Time:

20-minutes

Serves:

24-servings
White Chocolate Strawberry Cupcakes.
Category: Holiday, Eggs, Cakes, Fruit, Chocolate
Ingredients List
For the Cupcakes:
2 cups all-purpose flour
4 tablespoon corn-strach
2 cups sugar
1 teaspoon baking powder
1 cups vegetable oil
1 cup milk
4 eggs (lightly beaten)
2 teaspoon vanilla extract
For the filling:
1 cup strawberry jam
For topping:
6 oz white chocolate
For the frosting:
4oz cream cheese
4 oz white chocolate ""melted
1 cup heavy whipping cream
1 teaspoon vanilla extract
1 cup (or more) powdered sugar
â…" cup chopped strawberry
½ cup strawberry jam
For garnish:
3 tablespoon strawberry sauce
2 tablespoon strawberry jam
white chocolate shavings
Directions
1. Preheat the oven to 350 degrees F, and line your cupcake pans with your liners.

2. In a large bowl mixed together dry ingredients (flour, sugar, corn-strach, baking powder)

3. In lightly beaten eggs add wet ingredients (oil, milk, vanilla extract) and mix well.

4. Add dry ingredients and mix until it"™s evenly combine.

5. Fill the cupcake liners about â…" full.

6. Bake until a toothpick inserted in the center of a cupcake comes out clean (it takes about 15- 20 minutes)

7. Let the cupcakes to cool completely.

8. Whit the sharp knife cut the cone and fill the cupcakes with strawberry jam(1-2 teaspoon of strawberry jam per cupcakes) cut the tops and place them back onto filled cupcakes.

9. Melt white chocolate and spread with the spoon over the cupcakes.

10. To make the frosting, mix melted and cooled white chocolate with cream cheese and vanilla. Add heavy whipping cream and continue mixing, gradually adding powder sugar.

11. When it became thick enough,mix in chopped strawberries and strawberry jam.
Frost the cupcakes and store them in the fridge.
Before serving drizzle cupcakes with the mixture of strawberry sauce and jam and garnish with white chocolate shavings.

Recipes by Course
Recipes by Main Ingredient
Recipes by Cuisine
Recipes by Preparation
Recipes by Occasion
Recipes by Dietary