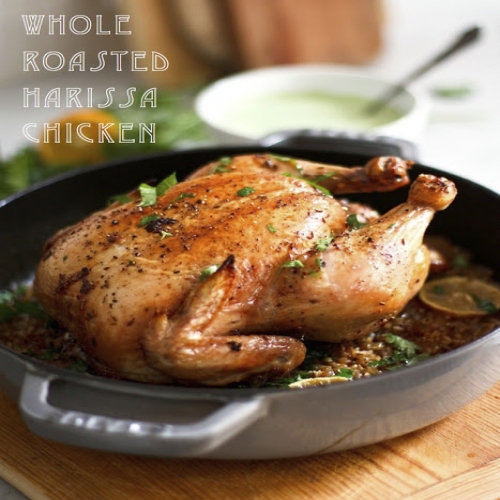 Prep Time:

20-minutes

Cooking Time:

1-hour 30-minutes

Serves:

2-3 servings
Whole Roasted Harissa Chicken Recipes.
Category: Chicken, Main Dish, Dinner Party, Peppers, Rice, Sauces
Ingredients List
4-6 lb one whole free range/organic chicken
1 1/4 tsp kosher salt
8 garlic cloves
1 tsp fennel seeds
1 tsp caraway seeds
1/2 tsp cracked pepper
1 crumbled chile de arbol
1 tsp olive oil
Saffron Rice:
1/2 C onion finely diced
1 tomato diced
Pinch saffron
2 cups chicken stock
1 cup basmati rice, well rinsed
1/2 tsp kosher salt
1 lemon.
Lemony parsley yogurt Sauce:
1 1/2 T lemon juice lemon
1 Cup plain greek style yogurt
1/2 C Italian parsley
1/4 tsp salt
Directions
1. Pre-heat oven to 425 F

2. Rinse and pat dry chicken ( getting the skin really dry ensures that it will get crispy). Using a mortar and pestle ( or food processor) grind the garlic with the salt into a paste.

3. Add seeds, pepper, crumbled chile, and olive and mash into a paste. It doesn't have to be perfectly smooth. Rub all over the chicken, getting in all the nooks and crannies and placing any extra inside the cavity of the bird.

4. Tress, tying legs together and tucking the wings in. Place on a hot cast iron skillet or on a sheet pan, breast side up. Let stand 20-30 minutes at room temp.

5. Place in the oven for 1 hour to 1 1/2 hours depending on weight. It is done when thigh is 170-180 F, or juice run just about clear.

-------------------------------------------------------------

1. Saute onion in 1T olive oil, on medium heat until tender, about 6 minutes. Add diced tomato and pinch saffron ( crumbled with your fingers). Saute 2 minutes. Add well-rinsed rice. Saute 1 minute. Add 2 C chicken stock and salt. Turn heat to high, cover and bring to a boil, and turn heat to lowest setting and simmer until water is gone and rice is cooked about 15-20 minutes.

2. Or substitute veggies for a "one-pot" meal version. Chop veggies ( carrots, potatoes, parsnips, fennel, onion, celery...or what ever you like) into bigger bite sized pieces and toss with salt pepper and olive oil. Line the bottom of a skillet with the vegetables and top with sliced lemon. Place the chicken directly on top. Roast.

------------------------------------------------------------


1. Place in a food processor and pulse until incorporated.
Recipes by Course
Recipes by Main Ingredient
Recipes by Cuisine
Recipes by Preparation
Recipes by Occasion
Recipes by Dietary