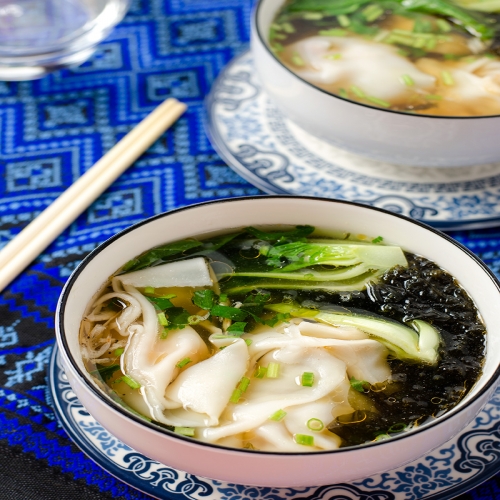 Prep Time:

40 minutes

Cooking Time:

10 minutes

Serves:

4
Ingredients List
for wonton filling
200 grams (7 ounces) ground lean pork
200 grams (7 ounces) peeled shrimp, each chopped into 3 to 4 pieces
1 tablespoon minced ginger
5 tablespoons green onion, finely chopped
1 tablespoon light soy sauce
2 tablespoon Shaoxing wine
1/2 teaspoon salt
2 tablespoon sesame oil
50 - 60 wonton wrappers
for wonton soup
1 batch of cilantro, chopped
4 tablespoons papery dried shrimp, or to taste
4 big pieces of dried seaweed (nori)
4-6 baby bok choy, quartered
2 teaspoons chicken bouillon
4 teaspoons light soy sauce or to taste
4 teaspoons sesame oil
green onion, chopped
Directions
1. Add ground pork, shrimp, ginger, green onion, soy sauce, Shaoxing wine, salt and sesame oil in a big bowl, mix well with a fork for about 3 minutes, until everything combines well together and the mixture feels a bit sticky.
2. To make wontons, place a wonton wrapper in one hand, scoop wonton filling with a spoon and place near the narrow side of wonton wrapper. Fold the narrow side over the filling, then roll the filling all the way through the other side of the wrapper. Bind both ends and press together to lock the filling inside the wrapper. If you find the wrapper is silky and difficult to stick together (esp. when using store-bought wrappers instead of freshly made ones), brush a thin layer of wonton filling ( or egg white or water) on the wonton wrapper, and it will easier to press the ends together. Make one wonton at a time, and line up all the wontons on a big wooden cutting board. If you aren't going to boil the wontons immediately, use a wet and light paper towel (or cheese cloth) to cover the wontons to avoid drying out. If you aren't going to boil the wontons the same day, place them in an airtight container with several layers of wet paper towels on the bottom. This way, they can be stored in the fridge up to 2 days.
3. To prepare 1 serving of wonton soup base, add a big spoon of of cilantro, 1 tablespoon papery dried shrimps, a generous piece of dried seaweed, 1/4 teaspoon chicken bouillon and baby bok choy into a big bowl. Repeat the process to prepare the rest of the soup base.
4. To boil the wontons, heat a big pot of water until boiling. Add 10 to 20 wontons at a time and boil on medium heat until wontons are floating on the surface of water. Continue to boil until the wrapper is swollen, around 2 to 3 minutes for small wontons and 3 to 4 minutes for bigger ones. Take 1 wonton out by colander and split it by chopstick or fork. If the wonton is cooked through, stop heat immediately. If not, continue to boil until cooked through.
5. To make 1 serving of wonton soup, use a ladle to transfer wontons and the hot soup into the big bowl with all the ingredients from step 3. Drizzle 1 teaspoon soy sauce and 1 teaspoon sesame oil into the bowl and give it a gentle stir. The soup should be amber colored. Add extra soy sauce or salt if the soup is not salty enough. Scatter green onion on top and serve immediately.

Recipes by Course
Recipes by Main Ingredient
Recipes by Cuisine
Recipes by Preparation
Recipes by Occasion
Recipes by Dietary