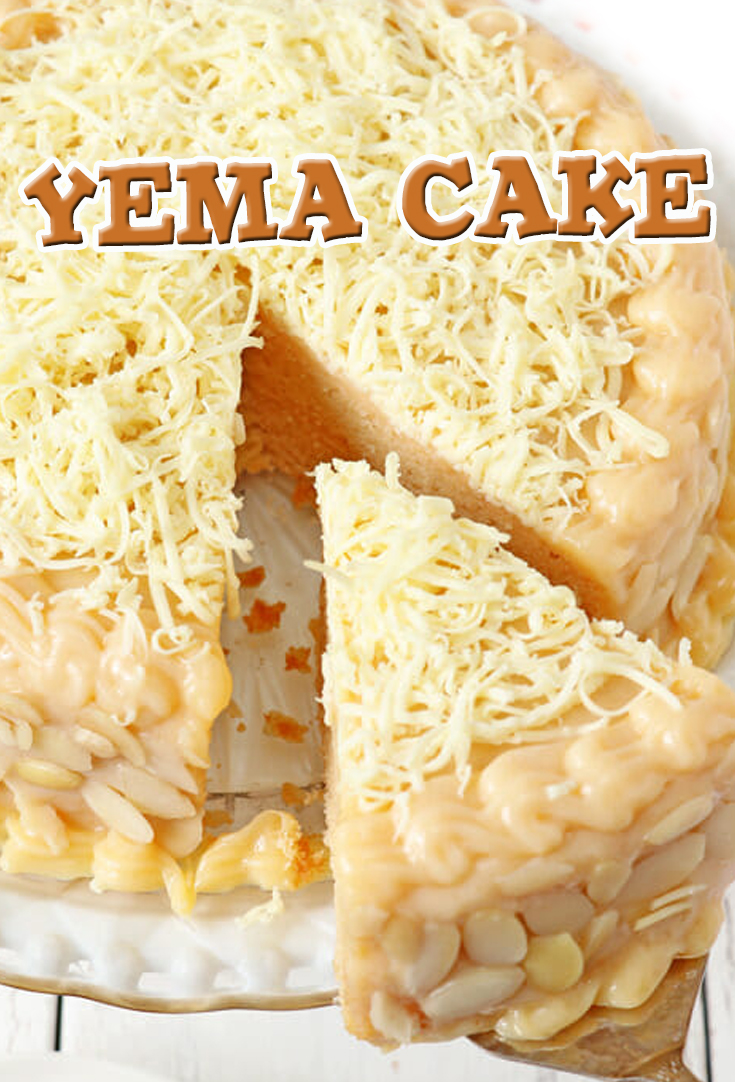 Prep Time:

20 mins

Cooking Time:

30 mins

Serves:

8
Yema Cake
Recipe Submitted by

maryjosh

on

01/18/2019
Ingredients List
For the Sponge Cake
2 large eggs, whites and yolks separated
1/2 cup sugar
1/2 cup butter, room temperature
1/2 cup milk
1 cup cake flour
2 teaspoons baking powder
1 teaspoons vanilla extract
For the Yema Frosting
2 cans (14 ounces each) sweetened condensed milk
4 egg yolks
4 tablespoons butter
For Topping/Garnish
1/2 cup almond slivers
1 cup grated cheese
Directions
SPONGE CAKE
Preheat the oven to 400°F. Line the bottom and sides of an 8-inch round pan with parchment paper and set aside.
In a bowl, beat the egg whites using a mixer at low speed for 2 to 3 minutes or until soft peaks form.
Gradually add 1/4 cup of the granulated sugar, a tablespoon at a time, while continuously beating. Once all sugar is added, turn up the speed to medium and continue beating the meringue until it forms stiff glossy peaks. Set aside.
In a separate bowl, cream the butter and remaining 1/4 cup sugar for 3 minutes or until light in color.
Add the yolks one at a time while continuously mixing for about 2 minutes.
Add milk, cake flour, baking powder, and vanilla extract to the egg yolk mixture. Beat until batter for about 2 minutes or until smooth.
Gently fold in a third of the meringue into the egg yolk mixture and then add the remaining meringue and fold until well combined.
Pour into prepared pan and bake for 30 minutes in the preheated 400 F oven or until a toothpick inserted in the center comes out clean.
Remove from oven and let the cake cool in the pan for about 10 minutes before completely removing from pan to a cooling rack. Remove the parchment paper off the cake and let it cool down before frosting.

For the YEMA Frosting
In a bowl, combine condensed milk, egg yolks, and salt (if using). Whisk until well-blended and evenly colored.
In a wide, nonstick pan over medium-low heat, heat butter until slightly melted and still warm (NOT hot).
Add egg-milk mixture and stir well to combine.
Cook, stirring regularly and scraping sides and bottom with a spoon, for about 15 to 20 minutes or until mixture thickens to a spreadable paste. Remove from heat and allow to cool.

TO ASSEMBLE
Once the sponge cake is completely cool, cut the horizontally into half.
Spoon about 1/4 of the yema on top of the bottom cake half layer. Using a spatula, spread evenly to cover the surface with about 1/8-inch thick of yema filling.
Place the top layer half of the sponge cake on top of the frosted cake layer.
Scoop and spread enough yema frosting on top of the cake to cover the surface and make a frosting layer with about half-centimeter thickness.
Set aside about 1/4 cup of the yema and using an offset spatula, spread to cover the sides of the cake.
Scoop a handful of almond slivers and gently tap to the sides of the cake.
Pipe the reserved 1/4 cup yema frosting on the top and at the bottom edges of the cake to decorate.
Sprinkle the grated cheese on top of the cake.
Serve immediately or chill in the fridge.
Recipes by Course
Recipes by Main Ingredient
Recipes by Cuisine
Recipes by Preparation
Recipes by Occasion
Recipes by Dietary