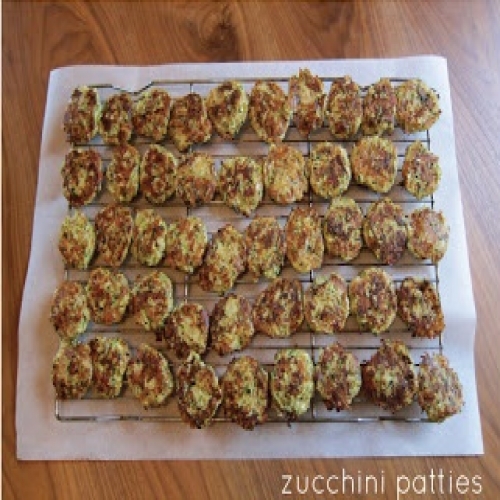 Prep Time:
Cooking Time:
Serves:
Category: Healthy Recipes
Ingredients List
6 cups grated zucchini, all the water squeezed out
1/2 cooking onion, finely chopped or grated
3 cups grated old cheddar
2 eggs
1/2 cup bread crumbs (I use panko)
1/2 cup ground flax*
salt and pepper to taste
Directions
In a large bowl mix everything together. If the mixture feels a little too wet, add a bit more bread crumbs.

Form patties using a one tablespoon scoop, flatten them out a little.
Here's where it's up to you how you cook them. You can either fry them up in a nonstick pan over medium heat, about 3 minutes a side until golden brown. Or, this is how I do it after months on end of patty making > I make the patties and putt them on a baking tray lined with a nonstick sheet. Bake them at 375° for 12 minutes and then pan fry them. I do this because I find they end up creamier in the middle and keep their shape better.


Recipes by Course
Recipes by Main Ingredient
Recipes by Cuisine
Recipes by Preparation
Recipes by Occasion
Recipes by Dietary